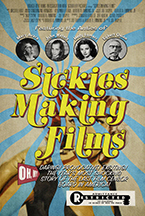 (The Maryland Film Festival ran May 2-6 in, you guessed it, Maryland. We have a slew of reviews coming your way so keep your dial tuned to HtN!)
I say tomato, you say tom-ah-to, but the guy over there says, "Oh, hell no, that's an obscene work of pornography," and so the debate over whether to censor images begins. Perhaps I exaggerate, but the nature of representation, and its right to exist, usually lies in the eye of the beholder. Authoritarian regimes love to control the arts (and, well, every other aspect of society), because the notion that people be exposed to complex ideas in a multiplicity of forms and formats, open to a variety of interpretations, can be deeply unsettling to those who seek unity of purpose. While we have yet – fingers crossed – to slide into such a system, here in the United States, our complicated, constantly shifting history reveals our own struggles to define and define the nature of liberty and justice for all. Beyond the great battles for civil rights, we have waged smaller skirmishes for the freedom to express ourselves in all ways, from the staid to the utterly repulsive.
Enter filmmaker John Waters (Pink Flamingos), Baltimore's beloved "Pope of Trash." He is just one of the many terrific talking heads in Sickies Making Films, director Joe Tropea's entertaining and informative history of the nation's longest-running censorship board – in Waters' home state of Maryland – which was founded in 1916 and ran until 1981, long after the creation of the MPAA ratings system, in 1968. Tropea (Hit & Stay) and co-writer/editor Robert A. Emmons Jr. (Diagram for Delinquents) fashion a tale as absurd as it is disturbing, walking us through the early days of the movies – their documentary is as good a history of the moving image as it is of censorship – up to the last gasp of the increasingly marginalized expurgators of objectionable content. One doesn't need to be an admirer of the work on display to understand the importance of free speech – in all its forms – and the ultimate triumph, via the courts, of the right to offend.
Featuring a wealth of great movie clips, archival footage and interviews (beyond Waters), the movie offers a fascinating take on the twisted world of morality-based legislation, provoking horror and derision, both. "Sickies Making Films" is a direct quote from the infamous Mary Avara, who served on the censorship board until the bitter end. Ever disgusted at a world she refused to understand, she processed all content through the prism of her traditional Catholic mores (John Waters was also raised Catholic, by the way, showing that even that venerable faith can produce very different disciples). Let all who choose to live in a society defined by independence of thought wear her words as a badge of honor. Sickies of the world, unite!
– Christopher Llewellyn Reed (@ChrisReedFilm)