Short Film Contest Winner/Runner-Up: Winter '17
It's that time again as we here at Hammer to Nail proudly present the winners of our quarterly short film contest!! It feels almost cliché to say it (or maybe I mean redundant?) BUT, this go around featured some STIFF competition. There was some good back and forth banter amongst the pre-screeners as well as the judges once the top films were passed on and the two films that won were very, very deserving and quite different as well.
As always I'd like to start by thanking our jurors…
Winter '17 Jurors
Clay Liford is a writer/director out of Austin, Tx. His latest film Slash premiered at the 2016 SXSW Film festival and is available now on iTunes and VOD. His other films include Wuss, Earthling and the cult favorite short film My Mom Smokes Weed.
Joseph Sackett is filmmaker based in Brooklyn, NY where he is an MFA candidate in the  NYU Graduate program. His short film Pregnant won our fall 2016 short film contest.
Chris Lyon is the Associate Director of the Louisiana Film Prize which is a truly fantastic opportunity for short filmmakers to create a film and win $50,000 plus many more perks. Their call for submissions is open now and well worth your time.
I'd also like to give a huge shoutout the the film festivals that are offering fee waivers to our winners: IFFBoston, Maryland Film Festival, Nashville Film Festival, DC Shorts, Montclair Film Festival, Oak Cliff Film Fest, St. Cloud Film Fest, Sun Valley Film Fest,  Julien Dubuque International Film Festival,  Oxford Film Fest, Indie Memphis, Sarasota Film Festival, Denver Film Festival, San Diego International Film Festival and Cleveland International Film Festival!
I'd also like to thank Fandor for their ongoing support of our short film contest. They offer up a 6 month subscription to our rnner-up and a full-year subscription to our winner. Very cool and gracious!

Now for the moment you've all been waiting for…
Runner-Up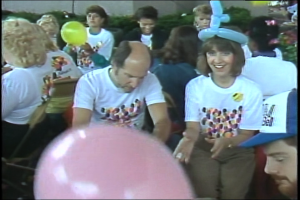 Balloonfest
(Directed by Nathan Truesdell; 6 mins, 16 seconds)
Oh, Cleveland. While other cities have managed to take the mantle of "Most Laughable City in America" away from you, there was a time when you couldn't be beat in that category. Like a sad, down on his luck uncle that can't seem t catch a break, Cleveland was always kind of looked down upon and pitied. At least, that's the way I always viewed the city.
In Nathan Truesdell's "found footage" documentary, we see a harebrained attempt back in 1986 by the city of Cleveland to make national, hell, world news by setting the Guinness Book of World Records record for largest balloon launch. Without giving to much away, it doesn't go well.
How and where Truesdell found this footage on VHS is a mystery (I guess I could ask him) but he puts together an incredibly comical short documentary with a shocker of an ending. Unfortunately for us (and you, dear readers) Balloonfest is already making the rounds at film festivals and, as a result, we are unable to screen it for you at this time. But stay tuned, when things wind down for the film, we'll be bringing it to you.
Winner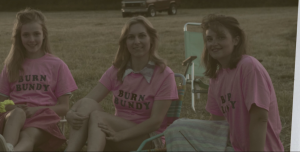 Fry Day
(Directed by Laura Moss; 16 minutes)
The fact that Laura Moss' amazing short Fry Day is also set in the 1980's (1989 to be exact) is a total coincidence, the jurors assure me! And the fact that everyone who's seen Balloonfest falls in love with it means a very special film had to come across our jurors eyes in order to earn the top spot in our winter contest. And yes, Fry Day is that kind of special film.
Inspired by research director Moss did for a feature film in development, Fry Day is a kind of eerie slice of life about a large group of Florida residents getting together in an almost country fair style celebration outside of a prison for the execution of serial killer Ted Bundy. While the film carries with it a dark and creepy undertone, Moss along with fellow screenwriter Brendan Jamieson O'Brien adds a deeply human element to the short as we meet young Lauryn (Jordyn DiNatale) who's trying to make a few extra bucking taking polaroids at the event. The sight of groups of moms with their kids yelling "Burn Bundy on Three…1…2…3!) is striking as is DiNatale's wise and knowing performance in the film.
The film soon pulls away from the carnival atmosphere as Lauryn succumbs to some flirting by a school mate and soon, she's off to a burger stand to get some grub before the big show. Fry Day then gets a kind of throwback Dazed and Confused vibe (in a good way!) before Moss reminds us that this whole evening is pretty much a gross, twisted mess.
Fry Day is also already blowing up the film festival circuit and as a result, we're unable to show it to you all at this time. But stay tuned, when things wind down for the film, we'll have it here on Hammer to Nail.
So, that's it! Congrats to Nathan Truesdell and Laura Moss on their win! Keep an eye out for both films as well as for our spring contest which is just around the corner.