Short Film Contest Winner/Runners-Up: Winter '16
It's been just over 2 weeks since the deadline came and went for our winter shorts contest so obviously, the listing of the winners is a bit late. But I have good excuses! First off, there were a whole bunch of entries. As the contest entered it's 3rd week I was getting nervous as the deadline was approaching and we were under 20 total. That's way low. But then, suddenly (and for reasons I am unsure of) a flurry of shorts came in right up to the deadline and we ended up with over 50. That's the highest amount of submissions I've encountered in my just-about-a-year of running the site and frankly, it was daunting. Myself and my pre-screening committee really had our work cut out for us and, yes once again, almost every entry was incredibly solid. I now have a newfound respect for the film festival programmers who deal with difficult decisions and seemingly never-ending movies all year long.
Getting back to the number of entries real quick; I thought the winter contest would be a biggie. Mostly because most of y'all who read the site are seasoned film festival people and have (like me many times before) had their short ready to go right at the end of summer. Thus, you were anxiously awaiting word from Sundance during the fall contest or you were grinding out a kick-ass cut for the SXSW deadline. Whatever the reasons may be for the large amount of submissions I am very grateful as the shorts contest is not only, well, super neat, it's one of the only things supporting the site in terms of money coming in on the reg so, thanks!
The winter contest entries were once again, pretty all over the map in terms of style, genre and plot. While at first it was unnerving to see 2-3 people fully vomiting for real in some of the shorts (that's not a trend we want now, is it?) what eventually rose to the surface are strong female lead characters. And strong female actors as well! As we get on to our winners below it's worth noting that each short has a very different type of strong female presence in the lead and honestly, it just turned out that way. The pre-jurors had such a hard time picking just five films to advance on to the finals, they picked six and each one was truly great. I know the ones that didn't win will be making appearances at film festivals for the next year or two and I want to try and attract attention to them when they do through our Facebook and Twitter so, give a like and a follow to our pages to keep up to date.
All that being said….let's get on with the winners!! But first, a note about our jurors and the prizes for our winners and runner(s)-up.
Winter '16 Jurors
Kent Osborne is an actor, director and head writer of Adventure Time where he recently won an Emmy for "Outstanding Short-Format Animated Program."  His most recent film, festival fave Uncle Kent 2, hits theaters and VOD any day now via Factory 25.
Tati Barrantes  is a former Los Angelino who lives and works in New York. She's an NYU Graduate in Film and has produced several award winning short films and features including our fall short contest winner, the outstanding Vincent.
Matt Grady is the founder of Factory 25, an independent film distribution company launched in 2009. Factory 25 is a home for conceptually provocative narratives and documentaries. Along with the aforementioned Uncle Kent 2, Factory 25 also recently released the excellent Christmas, Again which can be enjoyed any time of year.
PRIZES!!
Winners and runners-up for the winter shorts contest recieve festival submission fee waivers from the following fests:  AFI Fest, Sonoma International Film Festival, IFFBoston, Maryland Film Festival, Nashville Film Festival, Montclair Film Festival, Hamptons International Film Festival, Oak Cliff Film Fest, St. Cloud Film Fest, Austin Film Festival, Sun Valley Film Fest,  Julien Dubuque International Film Festival,  Oxford Film Fest, Sarasota Film Festival, Indie Memphis and THE L.A. FILM FEST!
Our first place winner receives a ONE YEAR SUBSCRIPTION TO FANDOR and the runners-up each get a 6 month subscriptions!!

Fandor makes it easy for you to find the right film to watch. With the biggest handpicked collection of the most-talked-about independent films from around the world, there's always something great to watch, whatever your mood, on almost any device. But they're more than just a destination for exceptional films. They're're also building a community of film lovers and makers and developing industry-leading initiatives, including FIX and Fandor edu.
and now for our winners….
SECOND RUNNER-UP
(Written by Elias Daughdrill and Lorraine De Leon, Directed by Elias Daughdrill; 11:41)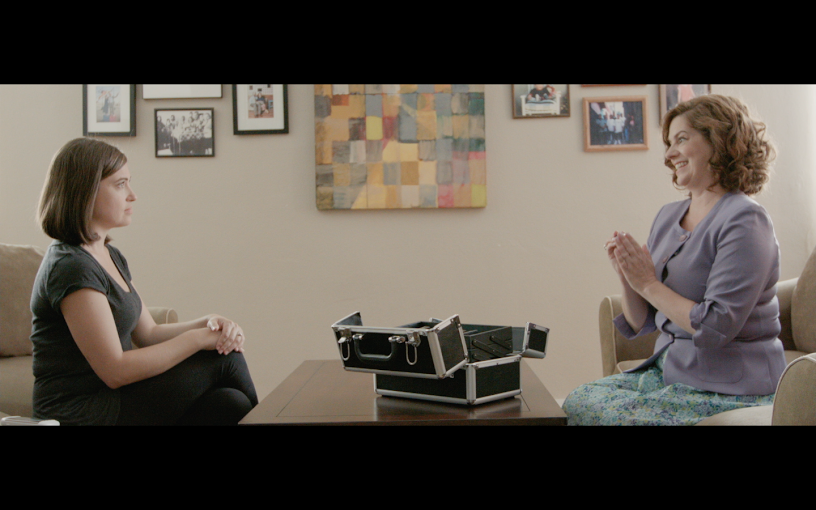 KEEP AN EYE OUT FOR COSMETICS AT A FILM FESTIVAL NEAR YOU!
If you are a fan of awkward, cringe-worthy comedy, you are going to love Cosmetics. As the short begins we meet down-on-her-luck, newly divorced mom Brenda (an outstanding Janie Haddad Tompkins) bickering with her husband via cell phone before setting off to an acquaintances (an also excellent Fiona Landers) house to try and sell her some cosmetics. From there worlds collide as desperation meets pained malaise as these 2 women struggling with what modern-day relationships mean try and navigate an awkward afternoon encounter. 
RUNNER-UP
(Written and directed by Jeremy Hersh; 11:40)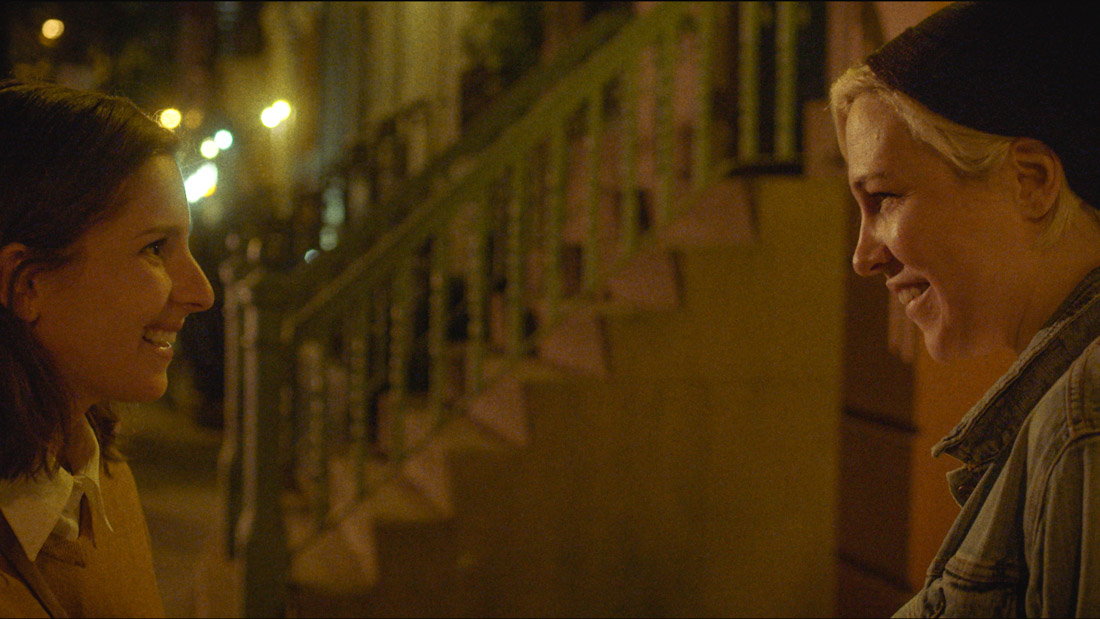 KEEP AN EYE OUT FOR ACTRESSES AT A FILM FESTIVAL NEAR YOU!
Anyone who's ever sought to be creative not only have role models to inspire them but also, the need for constructive criticism. And as anyone who's been fanning the flames of creativity for any worthy amount of time knows, learning how to ask for constructive criticism comes at the price of having to hear and (hopefully) accept it. Danielle (a spunky Rebecca Henderson) is a near-legendary local actress. After yet another brilliant stage performance up-and-comer Sara (a wonderfully awkward Taylor Hess) finally summons the nerve to talk to her idol and before long the two are canoodling in bed after a night of drinking. From there the sweet fledgling relationship shows signs of positivity but when talk turns to the craft of acting the confidence and charisma of Danielle crumples Sara's paper-thin skin and the relationship hits awkward, troubled waters. Hersh shows a skilled hand at letting these two talents ping off each other and allows them (and the film) the space to breathe thus creating a fully-formed narrative in under 12 minutes. Actresses has already had major fest success and it's no wonder.
WINNER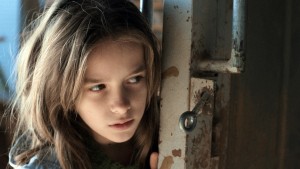 (Written and directed by Myrsini Aristidou)
This contest marks my 4th contest as Editor of the site and while I get to see all of the shorts submitted and frequently have a hand in sending on the finalists to our jurors, I'm sometimes surprised which one they eventually choose as the winner. This was admittedly the case with our jurors pick of Semele. But as I went back and rewatched it following the jurors (unanimous) decision I was shocked that I didn't see it coming as Semele is a beautiful, fully realized short film that may take a while to sink in but once it does, it's going to be in your mind for some time to come.
Young Semele (Vasiliki Kokkoliadi) is whip-smart but maybe not as smart as she thinks. In order to spend time with her absentee father (Yannis Stankoglou), she finds a way to get kicked out of school knowing full well her mother isn't around to look after her. Thus, it's up to dad who's hard at work to look after this rambunctious little girl who is desperately in need of some serious parenting. 
To be honest, I had to reach out to writer/director Aristidou about the setting and background for the film as I didn't want to hazard a guess. I'm glad I did (and she was very cool with this dumb American) as her information gave even more depth to the story. As it turns out the movie was shot (and set) in Cyprus in early 2015 and Cyprus, a neighbor of Greece, was equally as devastated (if not more) by the financial crisis that is still crushing those countries today. Thus in the film, when Semele's father doesn't have time to deal with his truant kid, the implications are magnified because if he loses his job, it could be impossible to find another. This layer is equally important as the main plot which shows a father who sees far too much of himself in his daughter who is willing to, shall we say, "bend the rules" to get what she wants. 
Semele has just started it's festival life and was the first movie ever from Cyprus to participate in the Toronto International Film Festival. It was also the first movie from a woman Cypriot director in Berlinale 2016 and trust me when I say, this is a film that will find a way into your heart and into many awards competitions to come.
Unfortunately  Myrsini Aristidou was unable to provide us with a link to watch the film at this time as it has the potential to be sold to American audiences and screening it for free may jeopardize that. However she has promised to provide a link once the film becomes available and we will let you know so you can check out this truly wonderful film.
So, that's a wrap on the 2016 Winter Shorts Contest! Thanks so much to all who submitted their films, thanks to all the sponsoring festivals and to Fandor and thanks again to Matt Grady, Kent Osborne and Tati Barrantes for taking the time to select the winners. Stay tuned here for the announcement of our Spring Shorts Contest which will be in April.