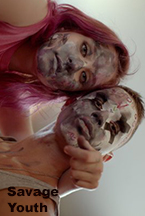 (The 24th Annual Slamdance Film Festival ran January 19-25 in Park City, UT. Hammer to Nail has you covered and guarantees more coverage than any other site. Watch us work it!)
Michael Curtis Johnson's Savage Youth just enjoyed its world premiere at 2018 Slamdance Film Festival in the Beyond program, but enjoyable is probably not the first word that will come to mind after experiencing such a brutally realistic portrayal of teens who are destined to be failures.
Savage Youth is like watching a car crash take place in slow motion over the course of 100 minutes. It's a film that will make you want to watch between your fingers, because without any obvious clues, it is still overwhelmingly apparent from the opening scenes that the conclusion for the teens will not be happily ever after. First and foremost, their impoverished economic status has basically sealed their fate. Secondly, they have absolutely no parental supervision or guidance. And, thirdly, their career aspirations all seem to revolve around rap music, art, and drugs – all of which require significant financial investment to achieve any sort of success.
Where Johnson most notably succeeds is in convincing us that the six primary characters deserve our sympathy. The sympathetic focus seems to be primarily on Elena (Grace Victoria Cox), who seems to be the most "innocent" of the group. Elena is quickly paired with Jason (Will Brittain), an aspiring rap artist with violent tendencies. It's the stereotypical good girl/bad boy relationship. Like Romeo and Juliet, they belong together, no matter what that entails. Despite being drug dealers, Gabe (Tequan Richmond) and Mike (Mitchell Edwards) don't seem like bad guys per se. They are just trying to get by, and drug dealing is the only economic opportunity available to them. Meanwhile, Stephanie's (Chloe Levine) primary fault is her penchant for bartering sex to get what she wants (drugs). Then, there is Lucas (Sasha Feldman), the village idiot who always strives to justify his worth (and strength) to his friends.
The presentation of Savage Youth is undeniably intriguing as it focuses on the performative nature of teenage personalities. I wouldn't go as far as calling Savage Youth Brechtian in nature, but it certainly has its moments of accenting that the characters are acting (and let's not forget the characters are actors). Performing rap videos in front of a presumed camera, posing for selfies (or just for friends), or reciting what seem to be Shakespearean soliloquies, they are all clever techniques to showcase how humans are really just mere performers.
Set in a racially-divided small town, Savage Youth highlights how the White youth use drugs as an escape, while for Black youth drugs are their only option for making money. We are not presented with any options for change, but that's only because none currently exist. Instead, the protagonists seem perpetually pulled towards the prison or morgue. That's precisely what we notice at the beginning of the film. We'll definitely hate to see the way it unfolds, but there is a savage truth to Savage Youth that needs to be experienced before any change will ever be possible.
Don Simpson (@thatdonsimpson)