ROTTERDAM 2010 – A Wrap-Up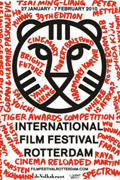 In January of 2006, I attended the International Film Festival Rotterdam for the first time with my narrative feature debut, Cocaine Angel. Four years later, a last minute invite brought me back once again. Even in 2006, when I was there to world premiere a film that I had directed (did that really happen?), I was more interested in watching other people's movies than talking about my own. This time around, watching other people's movies was my only job.
Having been to Rotterdam, I knew what I was getting into with regards to the program itself—for better than worse, Rotterdam isn't just a long ways away from Park City in geographical terms. Which isn't to say that Rotterdam's audiences are only interested in the most experimentally charged work on display. It also doesn't mean that the programmers are out to take a brashly anti-Sundance stance. All one needs to do is look at the 2010 Audience Award winner, Alvaro Pastor's Yo, Tambien, to realize that these festivals do have some overlap (another joint selection was Veiko Ounpuu's Tiger Award nominee The Temptation of St. Tony).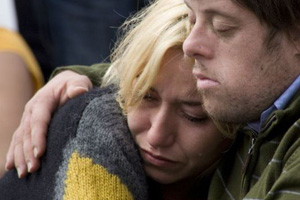 As for Yo, Tambien, what makes it an especially interesting work is how, from a distance, it seems like a bad Hallmark ad waiting to happen, but, in execution, it is a pointed corrective to this oft-abused genre. That said, this is a film that has Audience Award written all over it. Yo, Tambien is a surefire crowd-pleaser, no doubt, but it also accomplishes its goal without selling itself short. This is most largely due to the commanding lead performance of Pablo Pineda, who is not only "playing" afflicted but is, like his character, a highly functioning victim of Down's Syndrome. Yet the word 'victim' doesn't apply here. Which is Pastor's point. Yo, Tambien is at its best in naturally exposing the unfair, invisible walls that prevent 'normal' people from mixing with the mentally and physically challenged on deeper (i.e., romantic) levels. Pastor's reliance on a pop music soundtrack threatens to push Yo, Tambien into the film it so refreshingly is not, but even with these minor hiccups, the performances of Pineda and Lola Duenas shine through.
In between viewing, I found some time to visit with some of the American contingent in town. Before they split, I had breakfast with CineMart participants James Ponsoldt (Off the Black) and Anish Savjani (he of Filmscience), who were there to pitch Ponsoldt's Refresh, Refresh project to a roomful of potential co-financiers. I've been hearing this for years, but it sounded like their experience was similarly illuminating. As in: unless your movie is set in the country of those to whom you're pitching, or unless you're willing to hire a crew that's comprised of said countrymen, it's incredibly tough to find financing for an American product (I'm not quoting Ponsoldt and Savjani here, I'm coming to my own conclusion). Not that it was a total bust for Ponsoldt, as he excitedly told me that one of their meetings was with Ate de Jong, who directed Drop Dead Fred!
In three full days of viewing, I watched eight features and ten shorts, spanning fifteen different countries. Which isn't a tally to be proud of, I realize, but that's how it went down. Let's begin with some of those shorts:
Massage The History (Cameron Jamie, France/USA, 2010) — An upper level film studies course could be taught on Cameron Jamie's 10-minute short, which is about these guys, who have turned the seemingly ridiculous act of dry humping furniture into a hypnotic, carnal ritual of hypnotic proportions. That it all takes place in the sterile living rooms of upper middle class homes in the South adds a further layer of intrigue. Is this a supremely outlandish metaphor for unrequited adolescent male lust? Is it a comment on the over-sexualization of our culture in general (and hip-hop culture in particular)? Is it a plea for us to consider our own household objects with more tenderness and humanity? Your guess is as good as mine. But one thing's for sure. Massage the History casts an undeniably freaky spell.
Centipede Sun (Mihai Grecu, France, 2010) — A strong residue of the Dinosaur Age permeates Mihai Grecu's Centipede Sun. Though, by the time the film unleashes its unsettling final image of beached dolphins/whales lying dehydrated in the desert, one wonders if Grecu is projecting a vision of our immediate future as opposed to our distant past. If you dug the slow-motion destruction at the end of Zabriskie Point, you'll dig this.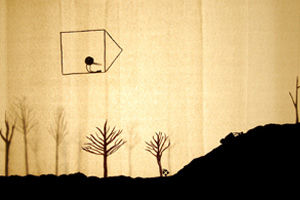 Dreams From The Woods (Johannes Nyholm, Sweden, 2009) — The Big Bird loves the Girl. He bequeaths her with a gift, yet she doesn't like him that way. She ventures into the isolating, windy outside world and, predictably, falls for a musician. He kills her with heartbreak, leaving Big Bird to wallow in his sorrow. At least that's what I got from this clever little work of puppetry.
The Palm Lines (George Chiper, Romania, 2009) — An elderly woman (played by actress Coca Bloos) goes through her solitary daily routine while, in voice-over, she tells the story of a tragic accident that led her to her current state. This short is a quiet crusher and a great lesson in how to show boredom, solitude, and reflection on screen without succumbing to boredom itself. Also, proof that narration can enhance the proceedings, rather than drag them down with sentimentality.
Out of Love (Birgitte Staermose, Denmark, 2009) — I saw this film, which won The Rotterdam Short Film Nomination for the European Film Awards 2010, a few months back at CPH:DOX, and was taken aback by its inventive blurring of the line between fiction and nonfiction. In 29 minutes, Staermose follows several children living in post-war Kosovo, who continue to make their way through a hard, unforgiving landscape.
In the feature film department, Rotterdam is perhaps most well known for its Tiger Awards competition, which celebrates first and second features made by promising directors from across the globe. Three equal awards are chosen by the jury. This year, while I didn't catch two of those winners—Paz Fabrega's Agua fria de mar (Costa Rica) and Anocha Suwichakornpong's Mundane History (Thailand)—the winner that I did see turned out to be my revelation of the festival.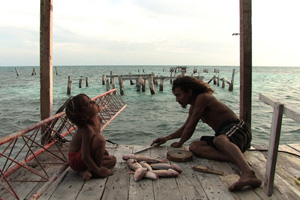 Mexican director Pedro Gonzalez-Rubio's Alamar is a breathtaking little gem that is executed with such seeming effortlessness I was convinced it was a documentary. While it might be lazy—and not entirely accurate—to call it Malickian, Gonzalez-Rubio shows a similar reverence for nature that isn't overly simplistic and hippified. This touching story of a young boy and his father spending time in Mexico's Banco Chinchorro coral reef, fishing and existing meal to meal, day to day, with their father/grandfather, is a pleasant reminder that industrialization hasn't steamrolled its way into every corner of the world (not yet, at least). And when it's time for the little one to return to Italy with his mother, Gonzalez-Rubio doesn't provide an obnoxiously loud contrast between the sea and the city. Back on land, in this more developed setting, the beautiful memories of that quiet life linger. I would be surprised if, at the end of 2010, Alamar doesn't remain near the tippy-top of my list.
Let Each One Go Where He May (Ben Russell, USA, 2009) — If someone asks you to describe what the Tiger Awards are all about, this film would be a great place to start. Tell them that the only American selection was made by an experimental artist and that it consists of 13 10-minute one-takes shot on 16mm. Let Each One Go Where He May was my last screening before I headed home, and at 10 o'clock at night, I was worried that my already heavy eyelids wouldn't be able to stay separated. Yet as soon as the film began, I perked fully awake and stayed riveted throughout. Shot in Suriname, Let Each One Go Where He May follows two Suriname-Maroon brothers take a similar journey to the one their ancestors took when they were fleeing Dutch slave-traders over 300 years prior. To my eyes, this film is a glorious blend of Munyurangabo and Gerry, in which each unbroken take builds in drama and tension the longer it transpires (there are some glitches along the way, but these feel more like documentary accidents as opposed to fiction mistakes). Winner of the FIPRESCI prize, Let Each One Go Where He May is certainly not for everyone, but in contrast to the more traditional narrative work on display at Sundance, it rejuvenated me and gave me a major thrill.
R (Michael Noer and Tobias Lindholm, Denmark, 2010) — Movies always seem to come in twos (Capote/Infamous being the most obvious recent example), but it's unfortunate for directors Michael Noer and Tobias Lindholm that their doppelanger happens to be Jacques Audiard's ultra-mighty A Prophet. There are just way too many similarities to not keep feeling a sense of déjà vu throughout, but if one can suppress those annoying urges, R turns out to be an even bleaker depiction of life on the inside.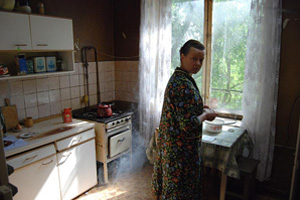 Mama (Renard, Russia, 2010) — While I told myself I was going to relegate the "it's (this) meets (that)" description game to Twitter from this point forth, in this case, it has to be done. Mama is like the immaculate bastard of Ulrich Seidl and Roy Andersson, which merges Seidl's Eastern European grime with Andersson's comic-strip sadness. Nothing much happens in this story about a grotesquely large 40-year-old man who lives at home with his weary mother, and literally nothing is said. This has nothing to do with anything, but the program description for this film is one of the more deceptive summaries I have ever encountered. Maybe the writer watched a rough cut in which some of the things they say happened actually happened? Either way, if the names Seidl and Andersson get you excited, you should definitely see Mama, though I would call it more of a distant nephew than an actual sibling.
Other features:
J'ai Tu Ma Mere (Xavier Dolan, Canada, 2009) — I confessed to this on Twitter already, but I felt like humiliating myself once again. I didn't realize until I was already seated mid-aisle in a jam-packed theater that this French-language print of 20-year-old Xavier Dolan's Cannes-winning debut had Dutch subtitles. And since it wasn't a press screening, an early departure would have only called attention to the fact that I was the ignorant American who didn't speak several languages. Instead, I tried to turn my mistake into an interesting experiment. I wanted to see if I could still understand what I was watching based on action alone. Reading some reviews after the fact, it's clear that I couldn't. Though it wasn't a total loss. Dolan uses music and slow-motion with enough expressiveness that I found myself emotionally involved nonetheless. That said, I look forward to watching I Killed My Mother again when English subtitles are involved.
Red, White & Blue (Simon Rumley, UK, 2010) — Man, I'm really not sure how I feel about Simon Rumley's Red, White & Blue, which recalls Bruno Dumont's Twentynine Palms in more ways than one. File this away as another example of a non-American director putting his own warped spin on what life is like in the United States. One thing's for sure. Though Red, White & Blue gets shockingly twisted, this isn't mere torture porn. Rumley uses an elliptical editing style that keeps viewers off-balance throughout and makes the film feel artful even when everything else about it screams schlock genre. One thing Rumley definitely gets right, at least with regards to his two main leads, is casting. Noah Taylor and Amanda Fuller don't just look the part. They are the part. Though I am still scratching my head about Marc Senter, whose own performance is so campy that I can't tell if this was intentional (good David Lynch) or unintentional (bad David Lynch). You have been warned. Red, White & Blue will make you feel gross.
Crying With Laughter (Justin Molotnikov, UK, 2010) — Another SXSW-bound film (see: Red, White & Blue), Justin Molotnikov's debut feature cleverly inserts a down-on-his-luck standup into a taut little British thriller. Stephen McCole is great as Joey Frisk, an Edinburgh comic who reflects upon the previous week's insanity during a very important routine, at which point we see that escalating insanity in flashback. This movie won't change the world, but it does bring something new to the table.
Eighteen (Jang Kun-Jae, South Korea, 2009) — I wish I had gotten to take in more of the South Korean cinema on display at Rotterdam, but this was the extent of it. From its awesome opening shot, Jang Kun-Jae injects a sweetly unique personality into what could have otherwise become a generic tale of young romance. If Lee Chang-dong's Oasis is the burn of first love, Eighteen is the more timid sting of first crush. Oh yeah, and the last shot is a doozy too, come to think of it.
All in all, it was a brief but rewarding three days in Rotterdam. I look forward to returning as a viewer and, maybe one of these years, as a filmmaker.
— Michael Tully