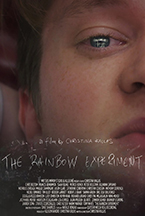 (The 24th Annual Slamdance Film Festival ran January 19-25 in Park City, UT. Hammer to Nail has you covered and guarantees more coverage than any other site. Watch us work it!)
While school shootings have become far too commonplace in the United States, writer-director Christina Kallas takes on a completely different type of school catastrophe. Kallas' film, The Rainbow Experiment, challenges its audience with a complex narrative structure that frankly confronts the circumstances that surround a student's death.
Flashbacks are intertwined with a multitude storylines, as all facets of The Rainbow Experiment take place within the course of one day. Some of the narrative threads seem superfluous until they begin to seamlessly connect with other plotlines, then the complimentary nature of the simultaneous narratives (occasionally revealed in split screen) becomes more apparent. The jumpy editing and unsteady camerawork add to the sheer chaos of the events at hand. And it is Kallas' knack for experimentation with the unconventional that landed The Rainbow Experiment at its world premiere in the Beyond category of the 2018 Slamdance Film Festival.
The Rainbow Experiment focuses on the aftermath of a science experiment that went horribly wrong. The audience is presented with pieces of the puzzle by an onscreen narrator, Matty (Connor Siemer), whose closeness to the accident renders his perspective so skewed that it brings into question the accuracy of his statements. Matty's direct address style of delivery not only breaks the fourth wall of a film that is otherwise shot like a cinéma vérité documentary, but it also lends The Rainbow Experiment a certain Shakespearean air.
Blame smolders at the heart of The Rainbow Experiment, as Kallas challenges the audience to make assumptions and cast judgment. Did the science teacher, Ms. Dhawan (Nina Mehta), fail in her preparations for the experiment? Did she not take the proper precautions during the experiment? Was Principal Williamson (Patrick Bonck) too lackadaisical in his oversight of the teachers and students? First and foremost, The Rainbow Experiment ponders who might be responsible for a rowdy class that repeatedly gets away with bullying their teacher. What seems to be most clear is that if it wasn't for the anarchy in the classroom, the accident probably would have never happened.
For most of us, The Rainbow Experiment will be an eerily (and embarrassingly) relatable film. I suspect most of the audience has been in classrooms like Ms. Dhawan's, in which the power dynamic shifts so drastically that the situation becomes dangerous. Parents don't like to admit that their kid is a bully, just like teachers are scared to admit that they can't control their students. School administrators and fellow teachers turn a blind eye, and the good students are too scared to say anything. The biggest problem, however, is the bullies fail to comprehend the possible repercussions of their bad behavior. In total, it is a recipe for disaster.
Don Simpson (@thatdonsimpson)