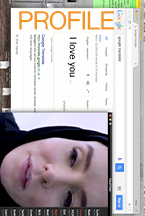 (The 2018 SXSW Film Festival kicked off March 9 and ran all the way through to March 17. Hammer to Nail has a slew of reviews and interviews coming in hot and heavy so keep your dial tuned to HtN!)
We are constantly watching screens all day. Our televisions, computers, tablets, and smart phones have become integral parts of our lives. With Profile, director Timur Bekmambetov tells a story that conveys exactly that, layered with a message that reflects the risks of paying too much attention to screens. Screens have become part of our reality. We believe them. That exposes us to the risk of people using these screens to manipulate our beliefs. (You know, like the Russian Twitter Bots and their "fake news" that most likely got Trump elected in the United States and Brexit passed in the U.K.) It is really no surprise that organizations such as ISIS have learned to use our screens, particularly social media, as a recruiting tool.
Profile tells the story of a London-based reporter, Amy Whittaker (Valene Kane), who goes undercover as a recently converted Muslim to lure ISIS recruiters into revealing their methodology. Amy creates fake email, Facebook, and Skype accounts as Melody Nelson, then starts liking and sharing ISIS videos. Bilel (Shazad Latif), a British-born ISIS fighter based in Syria, takes the bait and begins to work his swarmy charm on Amy.
Amy and Bilel enter into a cerebral chess match in which they strategically plan what they are going to say during each conversation. They play their online roles so perfectly that it's hard to gauge who will win the battle of wits. Will Amy get all of the information she needs from Bilel to break a career-catapulting story? Will Bilel convince Amy to travel to Syria with his promises of paradise, freedom, and luxury?
Amy is blinded by her motivation to get a full-time position and earn more money. Like a character in a horror film, Amy seems prone to making bad decisions, repeatedly putting her life at risk. If Bilel finds out the truth about Amy, he'll certainly find a way to have her killed.
The way Bekmambetov develops tension purely by the opening and closing of desktop windows is nothing short of masterful. By presenting this story solely via screens, Bekmambetov maintains a unique sense of intimacy. The perspective makes us part of the story; we connect with Amy because of our familiarity with the websites and applications she uses. We are offered a very unique insight into Amy's thought process by merely observing what she is looking at online (a perfect example of why "big data" relies so much on our browsing history).
The style of Profile permits very little physical interaction between the characters. The various actors are forced to connect via Skype and FaceTime, yet the two leads – Kane and Latif – are still able to share a seemingly organic chemistry. This speaks volumes about how modern technology allows people from around the world to establish intimate relationships, without ever meeting in the flesh. Being able to communicate via video is so much more effective than written or audio forms because it enables eye-contact, which is arguably even more important than physical touch when establishing human connection.
But as wonderful and exciting these technological achievements are, this is also why ISIS has made inroads into recruiting Westerners into joining them. There have been so many films that represent the fear of technology, and how computers or robots will eventually destroy human civilization. But maybe we should be more frightened of the doors that technology opens for humans to destroy each other?