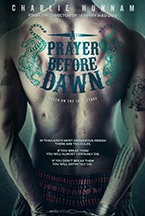 (The 2018 SXSW Film Festival kicked off March 9 and ran all the way through to March 17. Hammer to Nail has a slew of reviews and interviews coming in hot and heavy so keep your dial tuned to HtN!)
I usually hate to make direct references to other films, but if you like Nicolas Winding Refn's Bronson and Only God Forgives, Jean-Stéphane Sauvaire's A Prayer Before Dawn is certainly in the same ballpark – or prison, if you may. Uncompromisingly brutal and undeniably realistic (as if I would really know – but it definitely feels realistic), A Prayer Before Dawn is an in-between-your-fingers-peaking portrait of a young English boxer pummeling his way out of Thailand's notorious Bang Kwang Central Prison.
Based on "A Prayer Before Dawn: A Nightmare in Thailand," the memoir of Billy Moore (Joe Cole), A Prayer Before Dawn exists in a Thai blood-soaked world of drugs, gangs, tattoos, and ultra-violence. Considering that the Thai dialogue only appears as subtitles whenever Billy actually understands what is being communicated, Sauvaire creates a cinematic environment that is as menacingly foreign as the Bang Kwang Central Prison itself. Most likely ranked as one the worst three locations to visit in Thailand, the Bang Kwang Central Prison offers Billy an opportunity for redemption and escape if he can survive and succeed as a Muay Thai fighter.
Before his imprisonment, the drug-addled Billy repeatedly bare-knuckles it against local thugs in order to earn enough to fund his habit. And Billy's life does not change all that much in prison, except for the additional threats of gang-related violence and rape. Billy just wants to regain his freedom, that's all. Sauvaire's film ponders that the possibility of precisely that, leading the audience to consider what might become of Billy if he is released.
Shot in a real Thai prison with a cast primarily comprised of actual prisoners, A Prayer Before Dawn offers a neo-realist perspective of the already gritty memoir. The ultra-violent choreography of Sauvaire's film plays like a ballet of pain and agony, closely examining the psychological struggle within each fighter's mind by accentuating his gestures and glances. A Prayer Before Dawn is borderline eroticism, with its focus on sweaty, muscular, tattooed men, perpetually grappling with each other; a gang rape being the icing on the proverbial cake.
I'm the first to admit that I hate boxing films and feel like most redemption plots are a cliché, but Sauvaire's A Prayer Before Dawn is an exception to both rules. The unflinching perspective of David Ungaro's hand-held camerawork positions us mere inches away from the action, drenching us in the blood, sweat, and tears of the animalistic fighters. Raw and filthy, A Prayer Before Dawn is a difficult roller coaster ride, but it's definitely worth the effort as long as you can stomach the violence.
– Don Simpson (@thatdonsimpson)