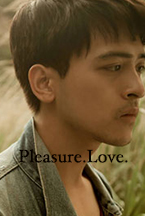 (The 2016 Sundance Film Festival has come to a close but the coverage can't stop! Won't stop!)
Chinese director Yao Huang's debut feature is a movie divided in two … sort of. The mystery of whether and how its two halves connect is almost more interesting than the stories it tells. That's not to say that there isn't a compelling, cinematic narrative within, only that perhaps the true pleasure, as well as love, one may feel while watching the movie is in deciphering its hidden meanings and couplings (and not just of the sexual variety).
Part 1 is labeled "Pleasure," and in this section we meet a destitute young man about to be evicted from his tenement apartment in Beijing. A radio program in the background about the future 2008 Olympics places the story in some kind of time frame, but this turns out not to matter. Time is fluid here, and cinematic time, even more so.
Our protagonist takes refuge one night in a dance club, where he meets an older woman. He's college age; she might be about 30. Soon, they embark on an intense sexual affair. It's never quite clear what she sees in him, but there's never any doubt about the reasons for his attraction: she is successful where he is not (yet), and experienced where he is not (yet). But there are secrets about her past, to which she merely alludes, that eventually come out, and the heretofore happy couple's affair comes to an eventual unhappy end.
At which point we pick up our second story – "Part 2: Love" – in which the gender roles are reversed. Now we have an older man with a younger woman, though their relative positions in life mirror their reverse counterparts of Part 1: she is new in town, trying to make her way; he is a successful businessman. Soon, they begin a sexual relationship, as well. Unfortunately, this section of the film doesn't work quite as well, if only because the actress looks so childlike and therefore much younger than the man, who also looks older than did the woman in the first part. As a result, there is a creepiness to their lovemaking that is absent in the first half of the film, which also raises the question of what meaning, exactly, Yao Huang ascribes to the age discrepancy, beyond the obvious one of teacher and student.
There are quite a few things that make Pleasure. Love. well worth watching, however, including its cinematography (filled with strikingly off-kilter compositions), performances (however age-inappropriate the casting), and dreamlike treatment of time and memory. It's this last aspect of the film that has stayed with me the most. The cinema, as the late, great Russian filmmaker Andrei Tarkovsky – among others – loved to claim, is the art of sculpting in time (and, I would add, in space). The director is the deity in charge of the audience's perceptions, and in Pleasure. Love., Yao Huang blends his two stories until we are not sure if one is meant to be the prequel to the other, or happening in tandem, or even happening in a parallel universe. The apartment complexes where our young protagonists reside are identical, yet the landlord in one is a landlady in the other. While we may never come to a definitive conclusion about who is what to whom between the two parts, it's (mostly) a joy to expend the effort pondering the questions in this beautifully shot and edited film.
– Christopher Llewellyn Reed (@ChrisReedFilm)