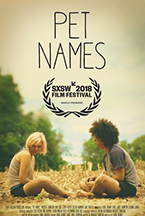 (The 2018 SXSW Film Festival kicked off March 9 and ran all the way through to March 17. Hammer to Nail has a slew of reviews and interviews coming in hot and heavy so keep your dial tuned to HtN!)
Written by, and starring, Meredith Johnston (Christopher Darling), Pet Names – the new feature from director Carol Brandt (Dear Coward on the Moon) – tracks the gentle misadventures of grad-school dropout Leigh as she takes a much-needed break from caring for her sick mother and heads off on a camping weekend with an old friend. Together, she, Cam (newcomer Rene Cruz) and his trusty pug Goose (played by Chato, also in his first feature role) hang out in the woods, exchanging metaphysical thoughts on life and its (lack of) meaning. OK, maybe the dog stays silent. But Leigh and Cam – who, we discover, have known each other quite a while – engage in voluble discussions on a variety of topics, circling around important truths. It's a talky movie, for sure, but with two appealing leads (and a cute canine), it makes those conversations count.
Perhaps the most interesting aspect of the movie is how it is shot. Brandt and her cinematographer, Dana Shihadah, have chosen a 4:3 aspect ratio (once common, but increasingly unusual since the 1950s) as their ideal framing device for a story about stasis. Brandt writes in her press notes, "A compressed frame really helped us to achieve the feeling of a claustrophobic main character who is constantly seeking escape." Indeed, the squarish box in which the action takes place pushes Leigh and Cam closer together, even when they would rather be apart, the tightness forcing an uncomfortable intimacy on them. It's a good size for Goose, but I'm pretty sure he'd look good no matter the frame size. There is also virtually no camera movement, a fact which reinforces Leigh's apparent lack of options.
As grim as the movie may sound (except for Goose), it is made with a delightful zest to its mise-en-scène, and great humor. Small interactions become significant in ways only later understood, presented at first as throwaway anecdotes. No moment is wasted. funny or not. Though we have seen, in our cinematic universe, plenty of stories about twenty-something alienation, both Brandt and Johnston manage to find fresh new truths in a potentially tired set-up. Beautifully photographed, written and acted, Pet Names establishes both women as bold new voices to follow in the years ahead.
– Christopher Llewellyn Reed (@ChrisReedFilm)