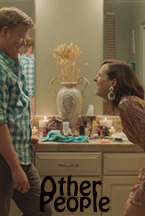 (The 2016 Sundance Film Festival is in full swing and we have boots on the ground as well as eyes on screener links for the whole festival! Stay tuned to Hammer to Nail as reviews start rolling in…)
David (Jesse Plemons) is a struggling comedy writer who has returned to his family home in Sacramento to assist his mother, Joanne (Molly Shannon), as she battles with terminal cancer. Stuck in an awkward place, trying to deal with the emotions that come with watching your mother's health decline while also trying to sort out the pieces of his own life, David quietly struggles on a daily basis. It doesn't help that his father, Norman (Bradley Whitford), won't acknowledge that David is gay, or that David has lost touch with his two sisters (Maude Apatow and Madison Beaty), for various self-absorbed reasons.
Chris Kelly's Other People skillfully mixes awkward humor with sad tension to build a ticking emotional bomb that we all know is going to go off at some point, but are never aware of how much of an impact it will have on us when it does. In my case, even though I was aware that I was in a hot pot of emotional water, I never noticed how intense it was until suddenly it was boiling, and the feelings of grief and sadness, for characters I barely even knew, were inescapable.
And to be honest, I wasn't always on board with the tonal gear shifts. As the film rolls along, the technique of having a tense moment diffused by a random or awkward bit of comedy became repetitious to the point of predictability. I see, in the end, however, that I was being set up for the emotional payoff, because when those tense moments are suddenly not interrupted by humor, and you're forced to stay in that moment, THAT'S when you realize how hooked you really are. That's when the tears start.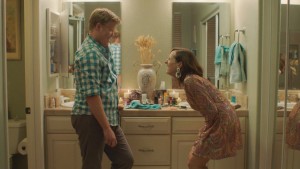 While the main perspective of the film is that of Jesse Plemon's David, and he does a wonderful job, the absolute standout of the film is Molly Shannon. She delivers a dramatic performance with so much range, making the decline of Joanne's health so realistic and believable that it's like watching a friend slowly disappear. It's heartbreaking and incredible to witness, and Shannon deserves any and all praise sent her way. And on a special note, for his character is only in the film for a few scenes yet is ridiculously memorable, JJ Totah's Justin is a scene stealing wonder.
Other People is a quality dramatic comedy that is as funny as it is devastating. It captures a truth of life, that often the saddest experiences can be infected with an absurdity that you can't help but laugh through.
– Mark Bell (@8MarkBell8)