Must-Sees At The 2009 New York Film Festival (Updated!!!)
This past year, some major staff changes have taken place at the Film Society of Lincoln Center (starting with the hiring of Mara Manus as the new Executive Director). What would this mean for the New York Film Festival? Though Manus has shaken things up, the most immediately recognizable difference in the 47th NYFF was occurring before she took over, and it's a dazzlingly major cosmetic one. After two years of twiddling her thumbs on the injured reserve, Alice Tully Hall is once again back in action and—so the powers-that-be assure us—even stronger than before. While the lack of construction on the corner of 65th and Broadway makes the walk to the press/industry screenings less annoying, the fact remains that it's business as usual at the Walter Reade, where the P&I screenings actually take place. In the past, we've been thrown a bone by getting at least one afternoon in Tully (a personal thank you to my cohorts for snickering every time new Director of Public Relations John DeNatale mentions how "terrific looking" and "easy to get in-and-out of" Tully is). This year, aside from a few off-site locales, everything is happening for us writers, bloggers, and Cocoon extras—I mean, donors—at the Walter Reade. Which is just fine by me.
As for the festival itself, allow me to get the nitpicking out of the way before we move on. I would personally like to sign the WTF petition with regards to the lack of inclusion of Jacques Audiard's A Prophet. But there's no need to harp on that. From the looks of things so far, Richard Pena and his new selection committee team—J. Hoberman, Scott Foundas, Melissa Anderson, and Dennis Lim—have done a fine job of honoring the festival's sturdy formula while injecting welcome new flavors into the mix.
What jumps out most immediately is this year's rewarding nonfiction slate. Typically, only one or two documentaries have made the cut each year, and at least recently, many of us were left wondering why the committee bothered to include them at all (this site is nice so we won't get into specifics, but there are certainly examples to back this up). But this year, things are very, very different. From the quiet naturalism of Sweetgrass to the sweeping poignancy of Ghost Town to the thrilling rush of The Art of the Steal to the rock-and-roll infusion of Get Yer Ya-Yas Out to the provocative insight of Henry-Georges Clouzot's Inferno, documentaries provide this year's NYFF with some of its most striking and memorable moments.
Superficially, the usual optical illusions are present if one does a quick scan of the lineup—Wild Grass, Sweetgrass, Sweet Rush; The White Ribbon, White Material; etc. But all one has to do is dig a bit deeper and clarity will be restored.
In order to honor festival tradition, some of the most recognizable names in world cinema have been assembled—Resnais, Denis, de Oliveira, von Trier, Dumont, Wajda, Rivette, Costa, Bong, Haneke, Almodovar, Breillat, Solondz—but this year, it feels like a commitment to honoring 2009's strongest work, not just an example of tired nepotism (of course, there are exceptions to be made).
As far as youth is concerned, two of the festivals most exhilarating displays of cinematic virtuousity come from relative youngsters: NYFF veteran Harmony Korine's Trash Humpers is unlike anything that has ever screened in a prestigious atmosphere such of this, but it also stands defiantly as one of 2009's most pure acts of creative expression. In only her second feature, 32-year-old German writer/director Maren Ade has produced the excruciatingly honest tour-de-force Everyone Else, which will make anyone who's ever been young and in a relationship (i.e., all of us) cringe with recognition.
Then, of course, there is Lars von Trier's sincere but outlandish Antichrist, which is certain to cause a bit of a ruckus. And though it's been making the rounds to consistent acclaim since Sundance, Lee Daniels' Precious: Based on the Novel 'Push' By Sapphire remains a must-see for Mo'Nique's instant classic performance alone.

All in all, from my seat, it looks like a solider than solid year at the NYFF. For our coverage—predominantly myself and Nelson Kim, though we're hoping to get another voice or two in the mix along the way—while we initially considered posting capsules about every film in the lineup, we ultimately decided against it. In the spirit of HTN, we're simply going to post plugs for those films which we deem to be the true standouts.
NOTE: This post will be updated daily throughout the festival as each new must-see has its premiere, so please be sure to check back often so you don't miss out on anything!!!
FRIDAY, SEPTEMBER 25th
Wild Grass (France, Alain Resnais, 104m) — Truth be told, when it comes to Alain Resnais' opening night film, my coin of verdict is still spinning comfortably somewhere in outer space, with no foreseeable return to Earth in sight. Whatever the case, the gleeful audacity of Wild Grass cannot be denied. In trying to best describe it, I settled on the term senile noir. Resnais tells the story of an aging crank, Georges (Andre Dussollier), who finds a woman's purse (Sabine Azema) and becomes obsessed with her, to the dismay of his young wife (Anne Consigny, who better be not be his first wife because there's no way in hell she's the mother of Georges' adult son). Azema's character is at first taken aback by his brusque behavior, but just when the seed has been planted and she starts to become excited by the prospect of a tryst with him, he pulls away. Then, in one quick second, he acts like an asshole to Emmanuelle Devos' seemingly strong-willed character, stuffing his face in her car window in order to make out with her, and, pretty soon, she's under his spell too. I'm not exactly sure what reality this film takes place in, but it is a severely alternate one. At times, the characters' behavior infuriated me; at times, it intrigued me. At times, I thought all this illogic was a sign of an auteur in full control; at times, it felt like I was watching an old man lose his mind before my very eyes. This is just one of those films where my jury might never come to a conclusion. I will say this for Resnais, however. He didn't just cock my head to the side at an angle that I haven't experienced in quite the same awkward manner. With one of the more say HUH? endings I can remember since… Dr. T & The Women?… he made it spin like a tornado. (Michael Tully)

SATURDAY, SEPTEMBER 26th
Sweetgrass (France/UK/US, Ilisa Barbash and Lucien Castaing-Taylor, 101m) — Certain movies are made for certain viewers, plain and simple. When it comes to myself and Sweetgrass, that statement couldn't be truer. That said, this quiet, observational documentary about Montana farmers taking the grueling journey through Big Sky country to deliver a herd of sheep to market has a poignant, universal charm. During it, I kept thinking that I was watching a distinctly 21st century Western, which had the air of finality with regards to this fading genre. Then, at the end, when Barbash and Castaing-Taylor reveal that this particular tradition has been forever placed to rest, it took my breath away. Sweetgrass might indeed be the very last Western (at least when it comes to the real world and not movieland). In preserving this special, lost American tradition, Barbash and Castaing-Taylor have made a lasting contribution to the canon and one of the year's best nonfiction films. (MT)

SUNDAY, SEPTEMBER 27th
Ghost Town (China, Zhao Dayong, 174m) — This documentary set in a remote Chinese mountain village runs nearly three hours, but seems much longer. I mean that as a compliment: Ghost Town is so rich in detail and incident that when it ended, and I emerged, blinking, into the mid-day bustle of Broadway, I felt as if I'd just returned from a week-long visit. The movie is divided into three parts. "Voices" focuses on the town's two Christian pastors, a middle-aged man and his 87-year-old father; "Recollections" is a group portrait that shows how various villagers cope with the lack of opportunities in a region left behind by China's economic boom; "Innocence" gives us a few days in the life of a 12-year-old boy abandoned by his parents as he scrounges for food and finds solace among friends and neighbors. Director Zhao Dayong employs a meditative long-take style that immerses us in the flow of real time, lulling us into the rhythms of the villagers' day-to-day existence. Ghost Town casts a powerful spell. (My interview with Zhao should appear here sometime after the film's public screening on September 27, but before the festival ends.) (Nelson Kim)
MONDAY, SEPTEMBER 28th
Police, Adjective (Romania, Corneliu Porumboiu, 115m) — Porumboiu's second feature, following 2006's 12:08 East of Bucharest, puts the "procedure" back into "police procedural." Cristi (Dragos Bucur), a cop in the sleepy city of Vaslui, is assigned to investigate a high school student rumored to be a hashish dealer. Porumboiu films the action in patiently observant long takes that sometimes last for several minutes; like Cristi, we wait, we watch, we ponder what we're watching. Instead of the usual dramatic clichés of the policier, we get real-time stakeouts, endless negotiations over paperwork, everyday workplace squabbles and shit-shooting. Porumboiu does bring in one familiar genre element, the old theme of the letter versus the spirit of the law, but even that gets a devastatingly original twist in the film's climactic scene. An ingenious formal experiment masquerading as a naturalistic docudrama, a quietly hilarious deadpan comedy, and, of all things, a thought-provoking rumination on language, Police, Adjective marks yet another stunning success for the new generation of Romanian filmmakers. (NK)
TUESDAY, SEPTEMBER 29th
The Art of the Steal (USA, Don Argott, 101m) — For those of us who are baffled, disturbed, and sickened by the obscene and outrageous dollar amounts associated with the modern art world, Don Argott's The Art of the Steal will come as a pleasant surprise. That's because in telling the story of Dr. Albert Barnes, Argott has found a figure whose driving purpose in life—and, as he willed it, in death—was to keep his own legendary collection out of the hands of the political stiffs and power brokers and phony appreciators who were interested in it for all the wrong reasons. To maintain control over his collection, Barnes established the Barnes Foundation in 1922 in Merion, Pennsylvania, a cozy, private building whose doors were only opened to students and the most passionate, grounded art lovers. But then Barnes died in 1951, and the trouble began. Fifty years—and countless screw-ups— later, the Barnes Foundation has found itself on the verge of falling into the hands of the very same powers-that-be that Dr. Barnes swore would never get control of it. The Art of the Steal isn't just an illuminating work of nonfiction. It has the narrative pull of the sharpest Hollywood thriller, as the trouble surrounding the Barnes Foundation expands and derails in increasingly impossible—and infuriating—directions. (MT)
THURSDAY, OCTOBER 1st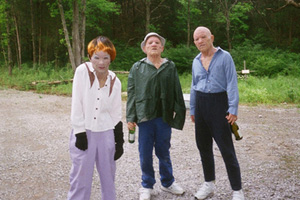 Trash Humpers (USA, Harmony Korine, 74m) — Ordinarily, it would make perfect sense to simply repost the capsule that I wrote for this film when I saw it in Toronto just two weeks ago. But when it comes to Harmony Korine's Trash Humpers playing at the New York Film Festival, that capsule won't cut it. That's because, whether you love it or hate it, the realization that this 'movie' has been included in such a prestigious, exclusive festival as this one is cause for a genuine wow! Detractors will surely say, "If this thing hadn't been made by Harmony Korine, it wouldn't have even be watched by the screening committee." To which I, a supporter, say, "Exactly." For the truth is that only Harmony Korine could have made this film. Only Harmony Korine could have combined an absurd premise—masked people humping trashcans and wreaking general, aimless havoc on anything and everything in sight—with a visual artist's agenda—embracing the gritty aesthetic of a "lost" VHS tape—and produced something of genuine import. In talking to a former Nashville resident after the press/industry screening, he spoke of how Korine had captured that on-the-fringes, late-night Nashville spirit. For most of the aging, city-bred, supposedly 'liberal' audience members at the NYFF who talk loud but travel little, they will never realize just how true a statement that actually is. Ready my conversation with Korine here. (MT)
FRIDAY, OCTOBER 2nd
Antichrist (Denmark, Lars von Trier, 109m) — Like Trash Humpers, I feel the need to give this film a new NYFF capsule too, as I saw it for the second time at its press/industry screening here in order to hopefully come to better terms with it. During the post-film Q&A (through the magic of Skype!), a disarmingly candid Lars von Trier confirmed what I had expected all along. He apologized for the overt religious symbolism splayed throughout, saying that if he had stopped to take his time, he would have removed all of those gaudy elements, which were written in the first-and-final draft burst. For anyone who makes any effort to read too deeply into this film on a symbolic and/or metaphorical level, the joke is indeed on you. But for all its insanity, Antichrist is by no means a joke. In fact, a second viewing made me more confident in my belief that this is a work of absolute heartfelt sincerity. This time around, von Trier isn't giggling while he makes us feel miserable. He's making himself feel miserable too. (MT)
SATURDAY, OCTOBER 3rd
Precious: Based on the Novel 'Push' By Sapphire (USA, Lee Daniels, 109m) — (Note: This was written when I saw the film at Sundance this past January.) Truth be told, I was excited for this movie because it sounded like a trainwreck of legendary proportions. And though it certainly started with a ridiculous bang, it sobered me up rather quickly. I'm not here to say that Push is a work of perfection, for there are many tonal meanderings in Lee Daniels' vision that make one feel as if they're watching several different movies at once. But as the film progresses, it starts to congeal unexpectedly, building to a genuine gut-punch of a climax. It's not even February, and I'm ready to hand out my Best Supporting Actress award to Mo'Nique. This is one of those performances that cannot be praised highly enough. It's beyond acting. More to come on Push, but for now, all I can say is that I think I really admire it. (MT)
SUNDAY, OCTOBER 4th
Everyone Else (Germany, Maren Ade, 120m) — I am in transit on a top secret HTN mission  so I can't write much right now, but if you miss Everyone Else, you will be making a very big mistake! (MT)
FRIDAY, OCTOBER 9th
Mother (South Korea, Bong Joon-Ho, 129m) — I am still busy traveling but I very much recommend Bong Joon-Ho's film as one of the more wildly inventive spins on that age-old theory that a mother would do anything to protect her child. With sumptuous photography and a startling performance by Kim Hye-Ja, Mother is a strange ride and a feast for the senses. Definitely worth checking out! (MT)
SATURDAY, OCTOBER 10th
The Red Riding Trilogy (UK, Julien Jarrold/James Marsh/Anand Tucker, 305m) — Based on David Pearce's series of novels about the "Yorkshire Ripper," this three-feature series originally aired on Britain's Channel Four. Truthfully, as I watched it back-to-back-to-back in a screening room several weeks ago, I had the thought that I would have been even more fulfilled by it had I been watching it at home on a cold, rainy Saturday, with nowhere to be but in front of the television. Yet as television goes, it remains a cinematic experience, thanks to the assembled talents on hand. Produced by Michael Winterbottom and Andrew Eaton, each part—1974, 1980, 1983—is helmed by a different director. If you like being transported into dark worlds, ala Se7en and Zodiac, this is an event for you. If you like your movies sunny and cheery, you have been warned. (MT)
White Material (France, Claire Denis, 100m) — I refuse to come to any somewhat cemented terms with Claire Denis' White Material after only one viewing, but Denis is nonetheless one of the few modern directors whose every film is an automatic must-see. So see White Material. As a complement to the film, if you're in the city and not traveling to one of the many festivals that are happening all over the place this weekend, be sure to attend "Claire Denis in Conversation With Noah Baumbach" at 2pm on Sunday. I would be there if I could. (MT)
SUNDAY, OCTOBER 11th
Bluebeard (France, Catherine Breillat, 78m) — Once upon a time, there lived a little girl named Catherine. Catherine loved to read Charles Perrault's 17th-century fairy tale about the much-married nobleman Bluebeard and the new young wife who discovers that he killed all his previous wives. Catherine especially loved to read this story aloud to her slightly older sister, in order to frighten her. Many years passed, and Catherine, now a distinguished novelist and filmmaker, adapted Bluebeard into a feature film. Catherine gave her film a framing device: sometime in the 1950s (though it could also pass for 2009), a little girl named Catherine climbs up into her attic, accompanied by her slightly older sister, Marie-Anne. This Catherine then proceeds to read the story of Bluebeard aloud to Marie-Anne: Once upon a time, there lived a passionate, beautiful, but impoverished young woman named Marie-Catherine, who marries the nobleman Bluebeard, only to discover that… Our Catherine—the grown-up, real-world Catherine Breillat—has crafted a cinematic fairy tale like no other, a fairy tale that is both an enchantment on its own terms as well as a kind of puzzle, similar to one of those secret backward messages that can only be understood by holding it up to a mirror. In this case, the "mirror" is the framing device: the young girl who reads the fairy tale to her sister is also projecting herself into the fairy tale, and the interplay between these two narrative levels becomes increasingly tricky, and increasingly tense, as the film moves toward its surprising conclusion. (Tip: if you haven't read the Perrault tale, do so before seeing the film—it's very short, and familiarizing yourself with it will give you a clearer idea of what Breillat is up to; her alterations provide the key to her intentions. A version with Gustave Doré's gorgeous illustrations can be found here.) (NK)