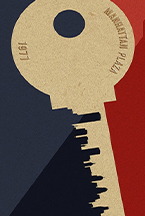 (Just in time for some holiday cheer, our lead critic Chris Reed reviews Miracle on 42nd Street, Alice Elliott's doc on the federally subsidized housing complex in New York City's Hell's Kitchen which "explores the importance of art – and artists – to the urban landscape."
A solid, moving history of the federally subsidized housing complex in New York City's Hell's Kitchen neighborhood known as Manhattan Plaza, Miracle on 42nd Street explores the importance of art – and artists – to the urban landscape. The building was erected in the mid to late 1970s, when Hell's Kitchen and the surrounding area, including Broadway, were in steep decline, overrun with porn houses and pawn shops. With the influx of a creative mix of residents of all ethnicities and financial means to Manhattan Plaza – which occupies an entire city block, from 42nd to 43rd streets and 9th to 10th Avenues – the area slowly began to change, eventually leading to the revitalization and renaissance of the theater district. Times Square today is a mecca for tourists and shoppers. Given that it's also filled with generic restaurants and stores found everywhere else, it's fair to ask if this is an unmitigated good. Well, at least it's safe, so that the residents and theater-lovers can walk home at night without fear. That is no small thing.
Director Alice Elliott – whose feature debut this is – presents the facts of the case in a precise, methodical manner, recapping the state of Times Square and Hell's Kitchen in the 1960s and the 1970s, and the reasons why it fell into such disrepair. She then explains the thought process of the developers who envisioned a bold new upper-income building as a way to turn things around, and how a subsequent financial crisis dashed those dreams. With its almost 1700 luxury units unoccupied, Manhattan Plaza seemed doomed to become just another monument to poor urban planning. But then – miracle of miracles – those who built the structure were convinced to apply for federal Section 8 status, with the caveat that 70% of the subsidized apartments be reserved for the working artists who perform in local theaters and clubs. Each would pay according to their means: if their income went up, they would pay more; if it went down, it would decrease. This new plan worked, the building was filled, and suddenly Hell's Kitchen had a large influx of new residents who brought a sense of purpose and energy to the neighborhood.
Some of those residents, interviewed in the film, include actors and musicians who were either children when they moved in, or struggling artists who needed a break, such as: Larry David, Giancarlo Esposito, Donald Faison, Terrence Howard, Samuel L. Jackson (who worked as a doorman in the building), Alicia Keys and Angela Lansbury. We hear their stories and cannot but marvel at the tremendous benefits to them – and to the city – this reinterpretation of Manhattan Plaza's purpose brought. If this otherwise delightful film has one drawback, it's that its structure, and accompanying music, often lend an overly promotional feel to the overall tone; I would have preferred less inspirational soundtrack (or maybe just all Alicia Keys). That aside, Miracle on 42nd Street justifies not only its own existence, but that of subsidized federal housing, as well.
– Christopher Llewellyn Reed (@ChrisReedFilm)