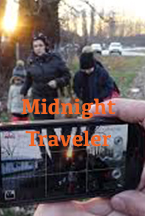 (The 2019 Sundance Film Festival takes place January 24-February 3 in Park City Utah. Hammer to Nail guarantees more reviews from the fest than any other website around. That alone is worth $1.00 per month to help keep us going!) 
A work of uncommon immediacy and raw emotional power, Midnight Traveler presents a first-hand account of a perilous refugee journey undertaken by an Afghan family of 4. When filmmaker Hassan Fazili is targeted for execution by the Taliban after they dislike a previous film of his, he flees to Tajikistan with wife Fatima and young daughters Nargis and Zahra. After 14 months, their asylum applications to Western nations rejected, and facing deportation, they head back to Afghanistan, despite the danger, in order to regroup and take the illegal, smuggler's route into Europe, in the hope that, once there, they will better be able to plead their case. And so we follow along as they document, on three different iPhones, this new trip, over more than 600 days, all members of the family participating in the creative process. Beautiful and frightening. Midnight Traveler offers a profound exploration of the human condition in all its misery and glory.
Working closely with his American editor Emelie Mahdavian, to whom he would send footage on SD cards smuggled out of whichever location he was in, Fazili reveals the high and low points of the odyssey. Along the way, we learn about his own history: from a family of Islamic mullahs, destined to become a mullah, himself, Fazili turned away from his religion towards a more secular path. Fatima, also a filmmaker, credits herself for some of that religious disaffection, though she still chooses to wear the veil. The spousal bond is strong; they argue and disagree, but love each other and their children, always engaging in free-flowing dialogue on a range of topics. When Nargis, the eldest, asks her mother if she thinks she, Nargis, should eventually don the veil, the resultant conversation is a model of parental encouragement of independent thinking in a child. If only they were not fleeing for their lives, theirs would be a truly happy family.
It's Nargis' voice that opens the film, reading from Afghan writer Said Bahodine Majrouh's Ego Monster, a book her father has given her (and from which the title of the movie comes): "Hell is other people," she quotes, before revealing that the subsequent scenes will reveal "a journey to the edge of hell." Which is not entirely true, as there are moments of calm amidst the tempest, though the storm always returns. A haven in Bulgaria turns into a nightmare when the local populace, riled up by nationalist politicians, threatens to attack all refugees. A tranquil stay in Serbia transforms into interminable ennui as it continues for almost a year. Amidst the fear and disappointment, there are still moments of joy: Hassan teaching Fatima how to ride a bicycle, Nargis dancing to Michael Jackson, each family member filming images of sumptuous splendor (which Mahdavian edits in lovely montages). Throughout, we remain transfixed by the direct truth of the experiences we witness. This is cinema, and when it's over, though we rejoice at some kind of resolution, we miss our time with these fascinating, vibrant souls.
– Christopher Llewellyn Reed (@ChrisReedFilm)
Like what you see here on Hammer to Nail? Why not pay just $1.00 per month via Patreon to help keep us going?