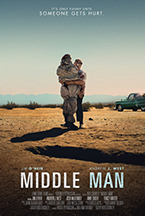 (The 2016 Seattle International Film Festival kicked off May 19 and ran for just shy of a month, until June 12. We will have coverage throughout the fest so keep your eyes tuned to HtN!)
You might recognize Jim O'Heir from his role as Jerry/Larry/Gary on the sitcom Parks and Recreation, but chances are you didn't remember his real name. No worries, neither could his fictional colleagues. In Ned Crowley's debut black comedy feature, Middle Man, O'Heir's character is equally unremarkable. Though he has lifelong aspirations of making a name for himself on the Vegas comedy circuit, he is painfully unfunny. Maybe that's why he so easily falls in with a violent drifter and soon finds himself in the midst of a killing spree that informs a new, much more successful stage presence.
Lenny Freeman (O'Heir) is an aspiring comedian who was born several decades too late. For him, the height of comedy is Abbot and Costello and George Burns. He has every classic routine memorized and he longs to revive that sort of antiquated comedy in Vegas. After the death of his mother, Lenny quits his dead-end accounting job and hits the road in a vintage station wagon to pursue his dreams. The trouble is, even if people were still into the wholesome wordplay he reveres, he doesn't have what it takes to write his own material. He's so blinded by his desires and the grief of losing his mother (who was clearly the only person in the world who loved him) that he misses the fact that everyone he meets finds him tedious.
He's not on the road long before he runs into Hitch (Andrew J. West, The Walking Dead), an aptly named hitchhiker who cons his way into Lenny's car by telling him that he's a talent manager with connections in Vegas. But before Hitch can help, he needs to see Lenny perform. They hit the nearest open mic, in a truck stop town called Lamb Bone. Unsurprisingly, Lenny gets nothing but heckles and crickets. Dejected, he goes on a consolation bender, waking up with a hangover and the body of his meanest heckler in the trunk of his car. Lenny can't remember whether or not he is responsible for this man's death, and Hitch does nothing to dissuade him. Hitch does, however, have a suspicious amount of helpful advice on how to dispose of a body. Afterward, still covered in dirt and blood and in a state of shock, Lenny returns to the open mic, and confesses his crime. Only this time, he's met with wild laughter. The audience mistakes his monologue for performance art. Since laughs are all Lenny has ever wanted, killing on stage leads to more killing off stage. Meanwhile, Hitch may or may not be pulling the strings.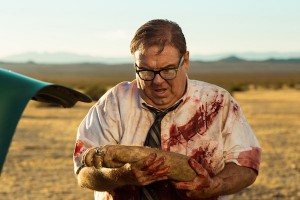 O'Heir doesn't shy away from playing the world's most unlikeable nice guy. It's a role that he perfected on Parks and Rec. But in Middle Man, he takes it one step further. Lenny is horrified by the turn of events, but not so much that ever considers walking away. He is, above all, consumed by his ambition, and he begins to see the body count as a necessary evil on the road to fame. Lenny connects with Grail (Anne Dudek, Mad Men), a Gracie Allen-meets-Simone from Pee Wee's Big Adventure waitress with an abusive boyfriend and dreams of the world beyond Lamb Bone. But his murderous secret threatens their budding romance.
Crowley wrote the script for O'Heir 20 years ago when they met in the Chicago comedy scene. He pays homage to different stand-up brands through many of his supporting characters, which deliver zingers in their every day interactions that are funnier than anything Lenny could ever write. Crowley also wears his Coen brothers and Oliver Stone influences on his sleeve through both tone and visuals.
For a film about a comedian, there aren't very many laugh-out-loud moments in Middle Man. It is a black comedy that's heavy on the black. But it's a unique concept and a great opportunity for O'Heir to really flex his acting muscles and show that he's more than just a farting punch line.
– Jessica Baxter (@tehBaxter)