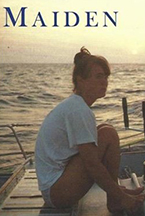 The 2018 Toronto International Film Festival ran September 6-16 in, you guessed it, Toronto, Canada. Hammer to Nail had boots on the ground in the form of lead critic Chris Reed and Matt Delman. Stay tuned as reviews keep rolling in…)
A documentary that inspires even as it entertains, Maiden – from director Alex Holmes (Stop at Nothing: The Lance Armstrong Story) – takes us on a journey both geographic and historic, following the first all-female crew on a round-the-world sailing odyssey that changes ocean racing forever. The time is the late 1980s, and Tracy Edwards is one of a handful of women sailors with the resolve to take on the male-dominated sport. Against financial and misogynistic odds, they succeed in not only proving that gender bias has no place on the high seas, but that they have more than enough mettle to handle anything men can do, and sometimes do it better.
Told through a combination of archival footage (how lucky we are that one of the women thought to document the voyage with an early-model video camera) and present-day interviews, Maiden places us right there with Edwards and her crew, from pre-start to post-finish, allowing us intimate access to problems mundane and frightening. It begins with Edwards as a young girl in Wales, saddled with an abusive, alcoholic stepfather who causes her to flee as a teen. Finding work as a bartender along the shore, she eventually signs on to cook and clean on a racing yacht, earning enough respect from the men to be hired on an otherwise all-male crew to compete in the 1985-86 Whitbread Round the World Yacht Race (since redubbed the Volvo Ocean Race). It sparks a fire of ambition within her, and she sets out to captain her own ship, of exclusively women, for the 1989-90 event (it happens every 4 years).
And so we watch as this group of remarkable women works for the next several years, training to race and raising money (of all people, King Hussein of Jordan steps in with a final angel investment). Then comes the fateful launch, from Southampton, England, on September 2, 1989, for the first leg, all the way to Punta del Este, Uruguay. It's a rough start for Edwards and her ship, Maiden, but they are about to make history by doing more than just competing. It's all just around the corner, in legs two and three, but you'll have to see the movie, yourself, to learn what happens.
It's well worth the effort, as one gets the vicarious thrill of danger and fear, failure and success, all without incurring any risk of one's own. I found Edwards' personal trajectory especially satisfying. As she grows from angry young woman to accomplished captain, she gains confidence and accepts the mantle of women's liberation that she earlier rejects. I think my favorite line of hers, late in the movie, is "now I'm a feminist, perhaps" (talk about understatement). Whatever she is, Edwards is a titan of courage and resolve, as are the other women on her ship. Vive l'égalité!
– Christopher Llewellyn Reed (@ChrisReedFilm)