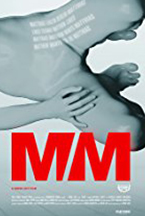 (The 24th Annual Slamdance Film Festival ran January 19-25 in Park City, UT. Hammer to Nail has you covered and guarantees more coverage than any other site. Watch us work it!)
Written and directed by Drew Lint, M/M is an experimental psychological thriller that thrives on the thumping beats of Berlin's techno underground. Ever-shifting concepts of reality and being provide a surreal yet visceral texture that is further enhanced by brooding and menacing undercurrents aimed to mainline the viewer directly into the minds of the two protagonists. Flourishes of campy humor provide welcome, albeit occasional, respites to the headily transcendental experience of Lint's feature-length debut which premiered at the 2018 Slamdance Film Festival in the Narrative Feature competition.
In his quest for something different, Matthew (Antoine Lahaie) relocates to Berlin from his native Canada. The foreign environment allows Matthew the opportunity to reinvent himself. Matthew's obsession with Matthias (Nicolas Maxim Edlicher) feeds his chameleon-like persona, so much so that their identities become blurred.
Matthias is statuesque, confident, and unabashedly gay – basically, he represents everything Matthew wants to portray. All the while, Matthew continues to succumb to a recurring nightmare in which statues conspiratorially watch him, as if they can see something that he does not wish to reveal. That nightmare has not gone away just because Matthew moved across the Atlantic. It continues to haunt him, just as it always has. The stony stares seem to propel Matthew into a confused psychological state that renders him unable to differentiate between dreams, fantasies, and reality.
Living in a state of fantasy allows Matthew more flexibility to control his environment, as if existing in a lucid dream. Within the context of M/M, it is utterly inconceivable to distinguish between truth and fantasy. That distinction does not matter much, since the characters treat both existences as equally real. The fantastical scenarios contribute just as much to the characters' development as real events.
Matthew lives a relatively closeted existence until he is able to use Matthias as a vessel for becoming more comfortable with his sexuality. While M/M is not about coming out per se, it is about transforming into the person you want to be. M/M can be interpreted as an examination of the struggle with identity that so many in the LGBTQ community experience.
A strange metaphoric duality exists between Matthew and Matthias. They almost seem to be one character with conflicting personalities. Perhaps they symbolize some sort of fugue state? The more they try to coexist, the more unstable they become. Matthew and Matthias are codependent characters who are unable to spend much together without resorting to aggression. They are infatuated with each other, but their relationship is combustible. Think: Fight Club through the lens of Gregg Araki or Todd Haynes.
Don Simpson (@thatdonsimpson)