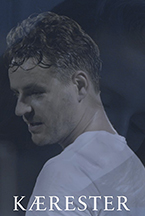 (The 24th Annual Slamdance Film Festival runs January 19-25 in Park City, UT. Hammer to Nail has you covered and guarantees more coverage than any other site. Watch us work it!)
Slamdance has never aimed to program commercial films. That's precisely why we love Slamdance, right? Niels Holstein Kaa's Lovers, with its North American premiere in the Narrative Feature category at Slamdance 2018, exemplifies this truly independent festival's attitude, focusing more on experimentation than potential ticket sales.
Kaa's film could easily be categorized as a romantic drama, since that's essentially what it is. Lovers is a film about romantic relationships, but it is so much more than that. In the program notes, Slamdance programmer Josh Mandel states that Lovers evokes "the pensive and soul-searching texture of Ingmar Bergman classics while giving fresh dimensionality to fleeting, millennial relationships." I certainly cannot deny that this triptych of romances set in Copenhagen bare an achingly Bergmanesque realism, with a quintessentially Scandinavian cautious and complex approach to defining love. Kaa's style pairs a significant enough amount of improvisation to capture what seems like authentic human emotions with subtly deconstructive techniques as he carefully dissects the trio of relationships.
Each of the three stories uniquely captures the insecurities and uncertainties of the beginnings of relationships, while revealing just how suddenly they can (and usually do) unravel. Kaa uniquely captures the constant questioning of when to protect oneself from getting hurt and the perpetual uncertainty of taking the emotional leap of letting one's guard down. At what point does a relationship truly evolve from sexual attraction to true love? What does it take to achieve an intimate connection nowadays? Has modernity made that process even more difficult for millennials? Are their expectations too extraordinary or their attention spans too brief? Is modern love an impossibility? To paraphrase David Bowie (surely you don't mind me dragging him into this): Modern love terrifies us, but makes us party…it's not really work, it's just the power to charm. Decades before smart phones and the Internet were here to perpetually connect-yet-distract us, Bowie clearly recognized that the landscape of dating had changed to something more short-term and detached. Now, as we rapidly approach 2020, are multi-decade relationships just a thing of the past?
– Don Simpson (@thatdonsimpson)