LES SALOPES OR THE NATURALLY WANTON PLEASURE OF SKIN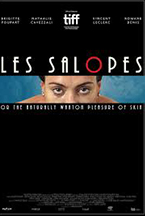 (The 2018 Toronto International Film Festival runs September 6-16 in, you guessed it, Toronto, Canada. Hammer to Nail has boots on the ground in the form of lead critic Chris Reed and Matt Delman. They're excited to bring you some amazing reviews so stay tuned!)
A film of ideas – many fascinating – enlivened with no small amount of erotica, Les Salopes or the Naturally Wanton Pleasure of Skin follows the story of Québécoise Marie-Claire, an academic dermatologist and happily married mother of two, as she pursues sexual affairs on the side, ostensibly as research, but mostly because she enjoys them. A scientist of sharp intellect and considerable sensual appetite, she is struck by the doctoral project of a student of hers who seeks to analyze skin cells to see if they change more from sex, love, or some combination of both. The skin is the largest organ of the body, after all, as Marie Claire intones in opening voiceover, and our primary means of interacting with the world. We should enjoy its pleasures, and enjoy them she sets out to do.
Prudish viewers, beware! There is, in fact, quite a lot of skin here, right from the beginning scene where Marie Claire engages in strenuous copulation in what appears to be a veterinary clinic (based on the watchful cats in the background). The pure abandon with which she throws herself into the act here leaves no doubt, research or not, that sex is an important part of her life. Still, it's a surprise when, soon thereafter, we see Marie Claire at home, materfamilias, equally happy in the arms of her husband. Clearly, she loves him, and he loves her, so it must be an open relationship. Or not. The "salope" of the title means either "bitch" or "whore" (or some variant thereof) in French, and writer/director Renée Beaulieu (Le garagiste) fully explores both definitions.
Marie Claire's bohemian extracurriculars, grounded in a stable home life, are in sharp contrast to the manic anxiousness of her best friend Mathilde, ever single, frequently drunk and always on the make, convinced that all she needs is the right partner to settle down with and have children. She envies Marie Claire her domesticity, unaware of her secret passions. While Mathilde represents a common trope of a fretful fortysomething, concerned about her vanishing fertility, Marie Claire shows that it's possible to be both a successful professional and wife, mother and lover. Indeed, the film is at its best in its celebration of Marie Claire's unapologetic independence of spirit, mind and body. Meanwhile, waiting in the wings is her own 14-year-old daughter, quickly following in mom's footsteps, to the consternation of Marie Claire who worries that the apple might be falling a little too close. Still, if sex is good in one's forties…
Unfortunately for our protagonist, and occasionally for us, life and the movie are both too complicated to allow simple joys to proceed unfettered. Marie Claire's clandestine activities are eventually discovered, and additional story elements enter the narrative. There is a side plot about a sexual harassment case between a professor and student, to which Marie Claire is more than peripherally linked, that is deeply unsatisfying in its surface treatment of the subject. Worse, the implied message, that women should learn to toughen up in a universe where men will never take them seriously if they complain, disturbs, even if there is more than an element of truth to that point of view. Nevertheless, it is all part of Marie Claire's trajectory towards full self-actualization; it doesn't kill her, and definitely makes her stronger.
Brigitte Poupart (Monsieur Lazhar) is riveting as Marie Claire, fearless in her performance, both physically and emotionally, carrying us through the script's sometimes awkward moments through sheer intensity of will. Beaulieu, in just her second feature, demonstrates a powerful and unique cinematic language throughout, combining evocative sound design and stunning compositions in a heady mix. I love the opening credits, in which Poupart's name appears in red, center screen, while the supporting cast swirls around her in white. The scarlet letters get the last laugh, however, for despite its few dramatic flaws, Les Salopes or the Naturally Wanton Pleasure of Skin is a strong, unapologetic feminist reclamation of female sexuality.
– Christopher Llewellyn Reed (@ChrisReedFilm)