Danish Doc-Making Legend Jørgen Leth Has No Plans to Retire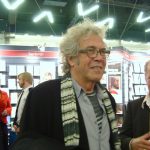 As a longtime fan of CPH:DOX I was thrilled to be back in Copenhagen at the end of October for the annual Danish Film Institute's DokDag conference. And while there (where I had the honor of delivering the international keynote address to the Danish doc industry crowd) I received the added bonus of having coffee with none other than veteran nonfiction provocateur Jørgen Leth. Leth, who looks and acts much younger than his 82 years, will be attending IDFA this month to screen his most recent film I Walk, which deals with the physical aftermath of his having survived an earthquake in Haiti, and also to receive a Lifetime Achievement Award. Perhaps too soon, as Leth certainly has no plans to retire.
Indeed, far from it. And after Leth ordered a croissant and lamented the political catastrophe unfolding in his adopted Caribbean homeland, he eagerly and forthrightly answered my question, "So what are you working on next?" (And then some.) So here's what I learned.
A documentary about the Danish jazz musician Jakob Bro. 
Since Leth began his career in the late 50s as a journalist and jazz (and film) critic perhaps it's not that unexpected that he'd turn his camera back to a topic close to his heart. What is surprising is that when I looked up Bro, a guy I'd never heard of and guessed was maybe some Miles Davis-era cat, I learned that the musician is actually still very much alive and playing. He's also half Leth's age.
A remake of his 1975 doc The Good and the Bad. 
Leth will not only be revisiting this stylized B&W film – what he calls his "ethnographic study of life" – but none other than Lars von Trier, his The Five Obstructions collaborator, might be joining him to do it. He just hasn't told his producer yet.
An update of 1972's Life in Denmark. 
As opposed to a "remake." Leth will reuse the original concept – while still making it experimental. Perhaps the only thing about the eternally curious filmmaker that I found not surprising at all.
Like what you see here on Hammer to Nail? Why not pay just $1.00 per month via Patreon to help keep us going?
– Lauren Wissot