HUNT FOR THE WILDERPEOPLE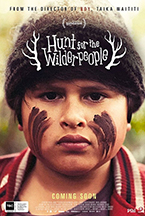 (The 2016 Sundance Film Festival is winding down but the coverage can't stop! Won't stop!)
City and food-friendly Ricky (Julian Dennison) has been in and out of foster homes with alarming frequency, and as he arrives at the remote farm of Bella (Rima Te Wiata) and Hec (Sam Neill), it looks like this might be his last opportunity to stay out of juvenile hall. All he has to do is settle in and make a solid effort this time around, so of course he runs away instead.
Ricky doesn't get far, however, as Bella finds him asleep the next morning and begins the process of slowing drawing Ricky into the family. Hec isn't too keen on the boy, but Hec doesn't appear to be too keen on anything; quiet and tough, Hec isn't one for idle small talk, and he barely tolerates the situation.
When Bella unexpectedly passes away, Hec finds himself in charge of Ricky, momentarily at least. Turns out now that the farm is no longer a two parent household, foster care wants Ricky back. Ricky doesn't want to go back, and instead runs away into the wilds of New Zealand. Hec sets off after him and, after a misunderstanding or three, the pair find themselves on the run from the law as foster care takes chase too.
As far as tone, Taika Waititi's Hunt for the Wilderpeople is more Boy than What We Do In The Shadows. Which is to say, there is comedy (of course), but also a healthy smattering of drama and heart. This film isn't just a joke factory (though it is still very funny).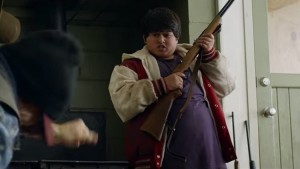 Like Boy, the core surrounds the relationship between a boy and a father figure. In this case, neither Ricky nor Hec really want anything to do with each other, but being stuck together is better than the alternative; Ricky back in foster homes or juvie, and Hec in prison. Of course the time together works wonders on the pair; Ricky toughens, Hec softens.
It all could be considered formulaic and predictable, but Waititi brings his odd sense of humor and cinematic influences to bear to create something fun and memorable regardless. Sure, the "lost" or "hiding" in the wilderness montages do get repetitive, making the film feel suddenly longer than it is, but it's not THAT bad. Whatever shortcomings that exist are often overshadowed by the chemistry between Dennison and Neill. The majestic landscape and gorgeous cinematography also work to erase any negative thoughts.
While Hunt for the Wilderpeople isn't my favorite of Waititi's oeuvre, it's still very, very good. In fact, I have yet to watch a film that he's made, short or feature, that I haven't enjoyed immensely. I'm extremely curious about what he's going to do now that he's part of the Marvel Universe; directing Thor: Ragnarok will obviously include certain restrictions, and I wonder how Waititi's sensibilities will translate.
– Mark Bell (@8MarkBell8)