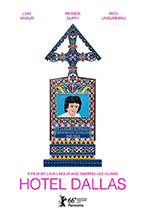 (The 2016 Maryland Film Festival ran from May 4-8. We're still churning out reviews so stay tuned to Hammer to Nail as reviews starting coming in from the fest)
From the late 1960s until his overthrow and execution in 1989, Nicolae Ceaușescu ruled Romania with an increasingly iron fist, eventually making his country one of the most repressive in the Communist Bloc. Sometime in the 1980s, he decided to allow a single foreign television program to be broadcast on the otherwise state-run stations, as a way of demonstrating the deeply corrupted mores of the West. This strategy backfired; the show he chose was the long-running American series Dallas and the Romanian public reacted with near-obsessive fascination, rather than with horror and repugnance. Average citizens avidly watched the show, allowing the lunatic plot and characters to fuel their romantic longings for a different kind of life.
20 years later, a child of that Dallas­-besotted generation has crafted a tribute, of sorts, in an experimental documentary as loopy (in a good way) as the shenanigans of JR Ewing and company. Romanian ex-pat Livia Ungur and her husband and creative partner Sherng-Lee Huang (The Naked Brand) combine real-life talking-head interviews, archival footage (of both Dallas and 1980s Romania), staged re-enactments (many performed by children) and exuberant musical numbers in a heady mix of fact and fiction that is the perfect surreal testament to life under a dictatorship. If anyone still doubts that Hollywood melodrama skates close to the edge of narrative madness, I offer Hotel Dallas as evidence for the prosecution. No wonder, then, that so many despots love our movies …
The film opens with a series of gorgeous shots of the Southfork Ranch (the set of Dallas), as Ms. Ungur takes a tour. Soon, we encounter a similarly massive and gaudy property – the titular "Hotel Dallas" – back in her homeland, built by an ultra-successful businessman of the post-Ceaușescu era, the self-proclaimed "Sunflower King." From there, the directors continue to explore how the legacy of a culture of excess plays out in a land once deprived of basic necessities. Along the way, they draft Patrick Duffy –Bobby Ewing on Dallas – to narrate, alongside Ms. Ungur and various interviewees, a meandering journey across the evolving landscape of the new Romania. From scenes of Dallas, we progress to the death of the dictator and his wife, discussing art, philosophy and the meaning of life as we go.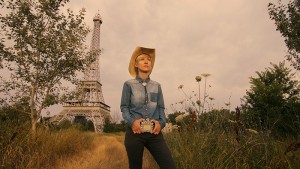 The whole affair is beautifully photographed, including a sequence that recreates the inside of a camera obscura, lending the movie a lush visual palette that belies its sometimes difficult subject matter. Difficult? Dallas? Well, yes, but the ostensible silliness of the central conceit is laid over the harsh reality of some serious crimes against humanity. Challenging, too, since Ungur and Huang eschew traditional narrative structure for a free-form approach to their story that may frustrate some viewers looking for clear answers to simple questions, or who want their documentaries without hybrid fictional elements. I say, bring it on, and let the craziness flow through the mellifluous tones of Patrick Duffy's voiceover. One would not want to live in Hotel Dallas forever – a little too unsettling, perhaps – but it's an exciting place for a short-term stay.