Greetings From Fantastic Fest
The opening week of Fantastic Fest is at the halfway point, but it is not slowing anyone down, and I have seen over a dozen films. There has been plenty to cheer and chat about through the first four days, especially when the first of two "secret" screenings were revealed Friday evening, when a jammed packed audience got to see fanboy favorite writer/director Guillermo del Toro's, latest gothic fantasy, Crimson Peak. While I was not at the screening, I was on hand to hear reactions from fans leaving the theater and folks were gushing about the scenery and visuals presented in the film (which opens wide on Friday, October 16). It was not a surprise FF chose Crimson Peak, but some were speculating it was going to be an early cut of writer/director J.J. Abrams new Star Wars: The Force Awakens as there was someone dressed as a Wookie in the lobby only minutes before the screening began. Either way, audiences were impressed with del Toro's new offering.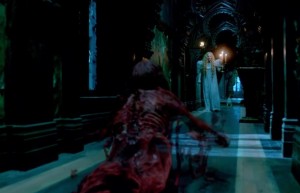 Fantastic Fest, much like the annual Comic-Con Convention in San Diego every summer, or other genre festivals worldwide (Sitges, Fantasia, and Bucheon) has been a festival where folks like del Toro, director Nicholas Winding Refn (Drive is attending to launch a new book, The Act of Seeing and programmed three films in conjunction with the book) and writer/director Nacho Vigalondo (Time Crimes and also starring in world premiere feature, Camino) have become household names and seem to attend every year bringing more excitement to Austin every time they ride into town and hang out. It also brings film fanatics and enthusiastic film lovers together as we sit in theater looking for new ways of seeing the world through someone else's visions witnessing some of best and brightest and maybe a little demented voice's in the world.
Here are a few of the films Hammer to Nail saw, which were on our radar while we attended…
Starting off with the opening night choice, Greek writer/director Yorgos Lanthimos' latest bleak allegory The Lobster definitely struck a chord with the attendees. In the near future, being single or alone is outlawed and you are taken away to "The Hotel" and given 45 days to find another single person and hopefully, become a match. If you do not find a partner, you are then turned into an animal of your choice and sent into the woods. On daily trips out away from the hotel and into the woods, if you shoot a loner (or an escapee) you can extend your clock a day for each loner you shoot. When David (an excellent Colin Farrell) meets other people at "The Hotel" (including Ben Whishaw's John who has a limp and John C. Reilly's Robert who has a lisp) they must find partners and it must be true love. As David's time is running out, an unexpected twist comes his way, when he decides to leave "The Hotel" and heads to the woods where he meets a group of loners (including scene-stealer Lea Seydoux and Rachel Weisz) and becomes part of a new society. Lanthimos' absurdity on dating and relationships hits the mark several times even when the undertones of the storyline skew into dark and surreal territory, leaving plenty of interpretation open for discussion on how we value loved ones and how we fool ourselves into thinking we are in love. Reteaming with cinematographer Thimios Bakatakis (Dogtooth) catches the visual glow of the Ireland landscape and the cramped hotel rooms all in breathtaking fashion. However the film belongs to Farrell's compassionate and hefty David, his best since his breakout role in 2000's Tigerland, looking for honesty from every one, and seeking it for himself even in the "focused" final scene.
A hard ticket to inquiry was Charlie Kaufman's stunning Anomalisa, based off his "sound-play" from 2005, packs a wallop of emotion and laughter to ponder in the "human condition." Co-directing with animation whiz, Duke Johnson, Kaufman's stop-motion and kickstarter film leaves even more interpretation open on how we handle relationships and what is expected of us.  When a lonesome motivation speaker Michael Stone (voiced by David Thewlis) travels to Cincinnati to give yet again another tiresome speech on making employees more efficient through customer service, even he is not convinced of his own work anymore, he might have a change of heart on this visit. Getting started with an awkward reunion with a past lover Bella (voiced by veteran character actor, Tom Noonan) at the hotel bar, Michael's night seems destined to turn sour when Bella storms off after his advances are stifled, until he knocks on the hotel room door of two women who are attending his speech the next morning. When he invites them down to the hotel bar, they join and the three get drunk. As the three are about to go to bed, Michael invites Lisa (voiced by Jennifer Jason Leigh) back to his room for a nightcap, Lisa is shocked that she was asked and not her more attractive friend, Emily (voiced again by Noonan). As Lisa and Michael head back to the room, they spend the night together and eventually, it becomes clear to Michael what he is missing – he needs Lisa in his life, (he has a wife and child at home) although, in the morning suddenly everything has changed. Without giving too much more away, Anomalisa has surprises in every scene when it comes to the lingering effects of nostalgia and the perceived notion of image. The voice-over work is astonishing throughout by Thewlis, Leigh and especially Noonan who voices everyone else in the film, men, women and children. The stop-motion animation is a wonder too, as faces and bodies or for a lack of a better term, "puppets" are effortlessly brought to life and do some crazy things in the process, from the soft gaze in their eyes looking at one another, to drinking apple Mojito's, to the intimate and racy sex scene in the bedroom. Kaufman and Johnson have brought a beautiful and striking original American film to life, no strings attached.
One of the more exciting highlights, and not getting much attention over opening weekend was the world premiere screening of the United Arab Emirates/Jordan suspenseful psychological drama Zinzana (Rattle the Cage) the feature debut by director Majid Al Ansari. Taking place in mostly one setting of a barebones police station, or more notably two prison cells is a fast, funny and gripping slow-burn piece of neo-noir heaven. Being the first "genre" film from UAE/Jordan, Ansari's story starts off with prisoner Talal (Saleh Bakri) waking up in his cell having no memory of how he got locked up. It is not until Dabban (portrayed by veteran Arab actor, Ali Suliman) shows up, supposedly as another police chief who begins toying with Talal and others in the police station, including killing the regular deputy for starters before Talal knows what Dabban's plans are. What is in store are diabolical nerves from both and a rich character study, even with a musical number to throw everyone off in his Dabban's true motivations which are slowly revealed late in the game. Halfway through you may start thinking Zinzana is going one-direction and goes completely in opposite way with much delight and suspense. The entertainment in Zinzana comes in the enjoyment of not knowing what to expect and how the pieces will eventually fit together through its tight pacing, intricate puzzle that lays ahead and brilliantly evoking neo-noirs on the grandest scale. Both actors, Bakri and especially Suliman are brilliant in wrapping back and forth testing the limits of one another and looking to outsmart the other, even though Bakri's Talal is locked up the entire film. One can only hope Zinzana will reach a bigger audience as it deserves and in no short time, there will probably be an inevitable US remake in the works, but in any case, all we left saying was, "that was fantastic!"
I'll be reporting on more of the final days of Fantastic Fest and how closing night film, Bone Tomahawk performs with this rabid and boisterous crowd.
-Jim Brunzell III  (@JimBrunzell_3)