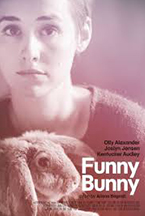 (As we put 2015 behind us, we're still trying to review all the great films that dropped this past year. This week we catch up with Funny Bunny which was shot by our Silver Nail Award winner Ashley Connor.)
If you go to the movies looking for carefully designed causality (the stuff of most Hollywood output) – and there's nothing wrong with that, if you do – then you may find the new film from Alison Bagnall (The Dish & the Spoon) a frustrating one. That's not to say that there is no structure – there is – but rather that the usual Arististotelian conflict/resolution trajectory is buried beneath the surface of a gently moving set of character studies. This is the cinema of contemplation, in which small – mostly internal – actions are writ large. If that sounds appealing, then Funny Bunny is your ticket.
If there is one main reason to see the film, it is Kentucker Audley (Christmas, Again), whom we meet early on, after the initial opening scene in which a young woman (Joslyn Jensen, New) draws a bunny on her thigh (more about that later). Audley – an actor of poignant restraint – plays Gene, a young man who plies his trade as a door-to-door canvasser for the anti-childhood-obesity movement. Is that a real job (as in, can one live on that)? It certainly is to him, and in a darkly comic sequence we see his vain attempts to interest his fellow citizens in his crusade. Audley is simultaneously morose and chipper, made all the more endearing (and funny) because of how serious he is.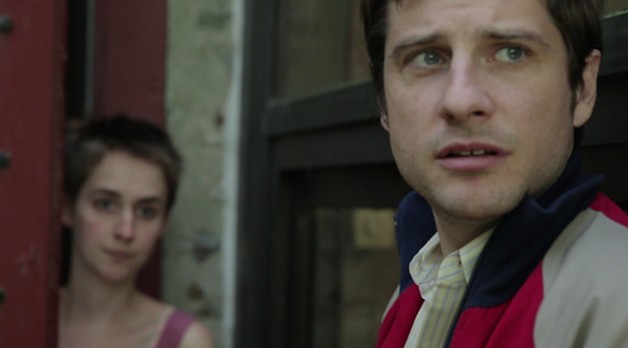 Things change for Gene when he stops at one particular house – a mansion – and the young boy who lives there invites him in to play. Improbably named Titty (and played by Olly Alexander, Le Week-End), this child-man inadvertently offers Gene a way out from his currently hopeless situation, since his wife has just divorced him and he has no place to stay. Each damaged and friendless, they make quite a pair. Titty also provides Gene with a concrete cause – helping him meet the girl of his dreams – that is a more satisfying outlet for his energies than his current occupation.
That girl is Ginger, whom we saw in the beginning. She not only has an inked bunny on her skin, but a live one that she cradles as she vlogs to the world on a regular basis. This is how Titty knows her, though they've never (yet) met. Thanks to Gene, though, they soon will. Once they do, the film becomes a study of lost souls in need of saving, whose respective emotional injuries and neuroses may just be the complementary balm that the others need. Jensen and Alexander are nice foils for Audley, but it's still his movie all the way.
Back to that bunny, though. It's not the only animal in the film. In fact, the plight of animals – the distressing ways that humans treat them – is a major leitmotif of the story. In seeking to save the abused beasts of the world, our lonely trio – a mixed manège of their own – seek a way out of their own dysfunction. Innocents, themselves, they project their own vulnerability onto the animal kingdom. Hopefully, by the end, they'll learn to relate to each other – and to the world – as fully realized adults. It's a testament to Bagnall's skill as both writer (assisted by her lead actors) and director that she makes this potentially maudlin tale both sweet and funny, as the title promises. If you can handle the low angle of the film's dramatic arc, then the emotional payoff is well worth the wait.
– Christopher Llewellyn Reed (@ChrisReedFilm)