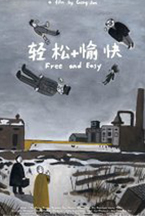 (The 2017 Sundance Film Festival kicked off on January 19 and runs through January 29. The HtN staff has boots on the ground and a crew working hard to review screeners hard  like this, Jun Geng's Free and Easy.)
A bone-dry dark comedy where no one is without compromise, Free and Easy, from Chinese director Jun Geng (Youth), offers an engaging mix of wit and anomie that recalls the work of Finnish filmmaker Aki Kaurismäki (La Vie de Bohème), yet with an aesthetic uniquely Geng's own. The story takes place in a remote industrial wasteland, sparsely populated, in which crooks and con men prowl the deserted streets of what once may have been a bustling city, looking for quarry amongst the decay. The ruined city offers few easy marks – few pleasures of any kind, in fact – and so the thieves must find honor among themselves if they are to survive.
It's an odd film to come out of China, given the implicit social criticism embedded in the mise-en-scène. The film opens with establishing shots of rusting barbed wire, empty buildings and trash-strewn lanes, all photographed in muted colors, emphasizing a rot long since begun. A solitary figure walks down a lane, holding pamphlets, eventually stopped by a man in a briefcase. The first man sells Kung Fu lessons; the second soap. Both are hustlers. What at first seems like a contest of salesmanship soon becomes a grift, and only one man can win that game. And so the movie goes, each con leading to the next.
What is free and easy in this sardonically bleak universe? The dreams of oblivion that come from an object that knocks the unsuspecting out with a sniff. They may be subsequently robbed, but at least the sleep is deep; it's almost worth it, as an insomniac victim confesses. Still, amid their dog-eat-dog aggression, our characters can still come together over food. Indeed, some of the best scenes in the movie are where former predator and prey sit with chopsticks and noodles, taking comfort from the only company they have. Dreary as its vision often appears, Free and Easy is gently funny in all the right places, showcasing an appealing cast and solid camera work.
– Christopher Llewellyn Reed (@ChrisReedFilm)