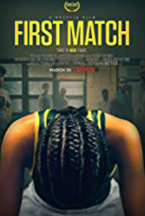 (The 2018 SXSW Film Festival kicked off March 9 and ran all the way through to March 17. Hammer to Nail has a slew of reviews and interviews coming in hot and heavy so keep your dial tuned to HtN!)
Monique (Elvire Emanuelle) has been bouncing around foster homes ever since her father (Yahya Abdul-Mateen II) was imprisoned. At the onset of the film, we can only assume her current foster father isn't the only one with whom she's had sex. Due to her warped psychological perspective on family, she does not see these men as fathers after all. Sex is likely a survival mechanism for Monique; an attempt to maintain a financial support structure. It is also part of Monique self-destructive personality. Barely treading water in the Brownsville projects, Monique is really hating her life, but she seems to believe that she deserves the crappy hand she's been dealt.
She is a troubled kid with a lot of pent up anger and frustration. Obsessed with wrestling, because her father was a high school wrestling star, Monique decides that would be the best outlet for her emotions. With wrestling in her blood, Monique seems to have no difficulties qualifying for her school's all-male varsity wrestling squad.
Things seem to be going pretty well for Monique until she finds herself tempted by the big money associated with an illegal MMA fighting ring. Monique finds herself stuck in an existential crisis. Does she pursue the path to easy money, albeit risking her well-being in the process, just to help her father? Or, does she stick with the high school team in the hope of attracting a college recruiter's eye?
All the while, Olivia Newman's feature-length debut, First Match (adapted from her 2010 short film), delves deeply into interpersonal relationships. Monique and her father clumsily navigate their reunited relationship, while the film also takes on an awkward love triangle between Monique, her best friend (Jharrel Jerome) and the wrestling team captain (Jared Kemp). Lead by a stunning breakout performance by Elvire Emanuelle, the emotional interactions between the characters are remarkably complex and uncompromisingly authentic. Ashley Connor's handheld cinematography weaves a gritty tapestry which establishes an intimate perspective that does not shy away from getting on the mat alongside the protagonist. Because of the close proximity to the action, we can almost feel the agonizing pain of each blow and the immense pressure of being pinned against the mat.
– Don Simpson (@thatdonsimpson)