(The 2016 Seattle International Film Festival kicked off May 19 and runs for just shy of a month, until June 12. We will have coverage throughout the fest so keep your eyes tuned to HtN!)
There has been a recent surge in films about trans people, both narrative and documentary. And it's about time. Trans rights have long been either lumped in with the rest of the LGBTQ issues, or ignored altogether. According to Kim, a trans man and the subject of Aaron Bear's first feature documentary, Finding Kim, the Ls, Gs, Bs, and Qs have been some of the worst offenders for undermining trans equality. Trans women in particular have been excluded from women's events as if they were devious cisgender men in disguise.
Fortunately for Kim, he lives in Seattle, where he has a supportive group of friends and can utilize his health insurance to cover his first surgical procedure, done by a sympathetic specialist. This has been a long time coming for Kim, who didn't come to terms with being trans until his late 40s. Raised as a girl, Kim was often called a boy by peers, as if it were an insult. His classmates also barred him from using the bathroom at school – any bathroom. He never told his parents what he was going through, resulting in a very lonely existence. When he was older, he thought he might be a lesbian, but after spending time in that community, he still didn't feel quite right. He finally had his life-altering breakthrough when he met a therapist who told him that all those masculine feelings he had were because he was a man. Within a couple of months, he was taking daily testosterone shots (called "T") and finally starting to feel at home in his own body.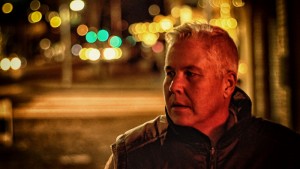 Finding Kim follows Kim through his daily life over the course of nearly a year, beginning shortly after he commences hormone therapy. As his voice deepens, his body hair increases, and his breasts deflate, Kim becomes more confident and content. He gears up for his first surgery, to remove his breasts, in order to fulfill a long-held dream of going swimming with his shirt off. Through it all, he struggles with how to come out to his very religious parents, who will undoubtedly notice something is up with their "daughter" the next time he sees them. Though they are not estranged, his contact with them is impersonal and infrequent.
To round out the story, Bear also includes footage from a trans pride parade, and interviews other members of the trans community about their experiences. There is "professional" insight from noted trans and LGBTQ figures, including Carmen Carrera (a trans woman who competed on season 3 of RuPaul's Drag Race), adult entertainer Buck Angel (the self-professed "man with a vagina"), author and sex advice columnist Dan Savage, and Kim's surgeon, Dr. Tony Mangubat. Bear embroiders the film with shots of some of the more picturesque Seattle vistas, creating an (appropriately) organic and compelling portrait of a man who wants nothing more than to love himself and to be loved for being himself.
– Jessica Baxter (@tehBaxter)