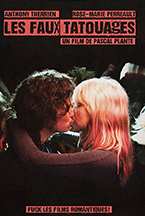 (The 24th Annual Slamdance Film Festival ran January 19-25 in Park City, UT. Hammer to Nail has you covered and guarantees more coverage than any other site. Watch us work it!)
Theo has just turned 18, and is shiftless and sullen. Mag is a year older, with a bubbly interest in people, especially children. The two meet after a punk-rock show in Montreal (the movie is in French, with English subtitles), where they live, and despite Theo's best efforts to avoid any kind of attachment, they go home together. Something about his wounded pride and anger appeals to Mag. She first remarks upon the fake tattoo on his arm (hers are real), and from there refuses to give in to his foul mood. Slowly, she breaks through, and in an intimate long take, we watch them flirt, undress, and make love, back at her place. It's not what Theo had in mind as a birthday present, but Mag is too sweet to resist. Though she's much more extroverted, they're both gentle misfits in an awkward world.
Theo has a secret that contributes to his hermetic state, which we'll learn later in the film, hinted at in a brief pre-credit sequence. In addition, he is about to move in with his sister, four hours away from the city, for reasons never fully explained, but probably a parental divorce. This puts a short shelf life on his relationship with Mag; when he tells her, she laughs that they have as much time together as the use-before period on the yoghurt she's eating. That's her, a happy-go-lucky breath of fresh air that is just what Theo needs. With his long black hair and perpetual scowl, he looks tough, but like the fake tattoo on his arm, it's all show. Underneath, he's just a lost kid looking for meaning.
Actors Anthony Therrien (the short film The Endless Days) and Rose-Marie Perreault (The Demons), as Theo and Mag, effortlessly inhabit their roles as friends and lovers, making us believe both their instant rapport and occasionally fraught subsequent relationship. They bravely bare both souls and bodies in naturalistic performances that make the film come alive every time they are on screen (which is most of the film), separately or together. Director Pacal Plante (La génération porn) allows them plenty of room and time for genuine moments in front of the camera, favoring handheld shots of significant length and close distance. It's the perfect style for this story of raw emotion that moves and entertains in equal measure.