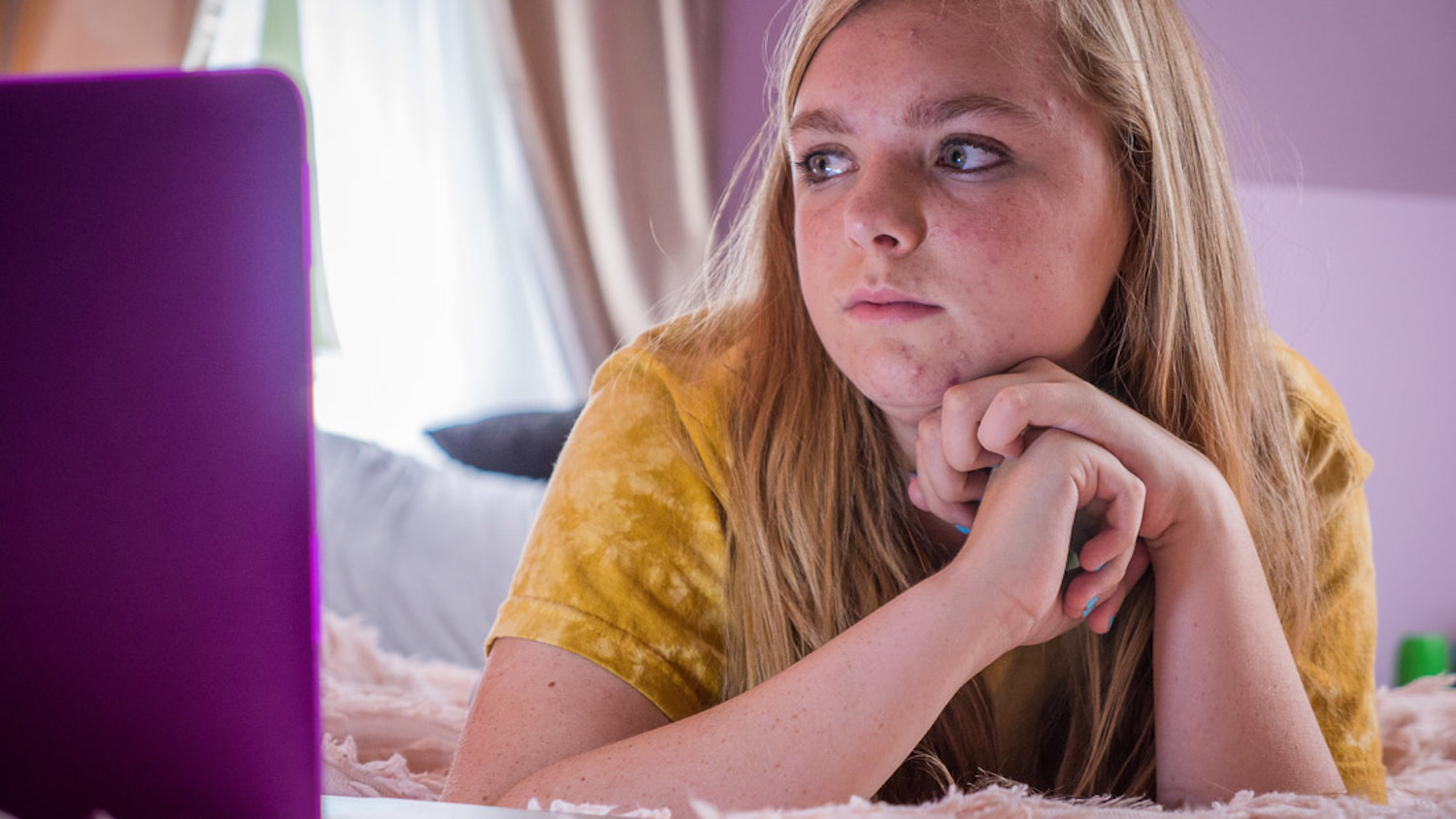 (The 2018 Sundance Film Festival runs January 18-28 and Hammer to Nail promises more reviews than any other outlet! Stay tuned for interviews, features and reviews…)
There's a moment in Eighth Grade, comedian Bo Burnham's directorial debut about a shy 13 year-old girl's last days of middle school, that signals the arrival of a prodigious filmmaker. The day after Kayla (Elsie Fisher) throws and damages her phone in a moment of panic, she's scrolling through social media and cuts her finger on the cracked screen. A single droplet of blood appears on her finger. The subtle moment encapsulates one of the central themes of the movie: that our technology is harming us and yet we continue to self-flagellate. The toxic cocktail of social media and adolescence is especially dangerous at Kayla's age, and yet seemingly essential to having a social life in 2018. Burnham doesn't pretend to have a solution–he's simply employing symbolic imagery to convey the hazards of our wired reality.
There are many testaments to his directorial talents throughout. A claustrophobic shot of Kayla scrolling through social media with music blaring through her headphones is played for laughs when the scene abruptly cuts to a wide shot of her sitting with her father at the dinner table. Burnham has a knack for putting us in Kayla's POV. It's both frightening and all too relatable. We're kidding ourselves if as adults we think we aren't inclined to the same behavior, if not to that unapologetic extreme. Another montage shows Kayla up late at night answering Buzzfeed quizzes and the like, hilariously scored to Enya's Sail Away. Perhaps as adults we are less interested in matching our personalities with Disney princesses, but most of us know the feeling of falling down the internet rabbit hole until 3AM, engorging ourselves on the latest Trump outrage or trending celebrity gossip.
Then there are the scenes of teenage awkwardness we've definitely outgrown. Like the popular girl's pool party, played with a mix of horror-film panic attack and a Planet Earth-esque curiosity. Nobody in their thirties ever feels angst at a party where they're out of their element, right? Or how about the squeamishly uncomfortable truth-or-dare scene in the back of a highschooler's car? Adult men are definitely too mature to wield their power over vulnerable younger women to satisfy their sexual frustrations. Hmmm…. In fact, this scene is a perfect example of why we need better sex education for teenagers so they don't carry these tendencies with them into adulthood. There will be young boys and girls who watch this scene with their parents and get a much-needed lesson in coercion.
And so yes, Eighth Grade is about Eighth Grade, but it's also about the people we were and the people we become. It's about the continued perceptions of a self-centered, narcissistic society filtered through the lens of snapchat, instagram and twitter ("nobody uses facebook anymore"). But it also shows some very good people performing selfless acts that warm the heart. Like Olivia (Emily Robinson), the highschooler that Kayla shadows for a day, who offers her guidance and support and even genuine friendship. There's the nerdy cousin who challenges her to a breath-holding contest at the pool party when she's feeling isolated. And of course, her big-hearted father (Josh Hamilton), who has a tear-jerking monologue towards the end that will make you want to hug the closest person nearby. These are the people we should emulate, and Burnham knows that for every mean girl and horny boy there are many everyday heroes who can make growing up feel a little less painful.