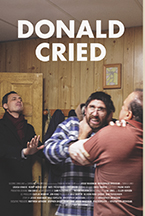 (The 2016 Maryland Film Festival ran from May 4-8. Stay tuned to Hammer to Nail as reviews starting coming in from the fest)
By the time I finished watching Donald Cried, after its succinct –­ and near-flawless ­­– 85 minutes, I had reached the conclusion that the film is, in many ways, the perfect example of a micro-budget indie. With smart and moving performances from virtual unknowns, supported by exquisite cinematography and a dramatically sharp script, all shot in the director's home state of Rhode Island, the movie cannot have cost a lot to make, yet offers a more rewarding experience for viewers than most of today's overblown blockbusters. It tells a universal story of how the past is always with us, yet fills it with such great specificity of detail as to feel wholly unique.
Filmmaker Kris Avedisian – who also plays Donald – directed a short version of this same story in 2012, in which Peter Latang (Jesse Wakeman) returns to Warwick, Rhode Island, to attend to the affairs of his recently deceased grandmother. This longer version is his feature directorial debut. Both films explore the same theme – a variation on Nietzsche's Eternal Recurrence – in a similar way, but the feature allows Avedisian a welcome opportunity to further develop the characters and broaden the scope of their relationship. It's been a long time since thirty-something Peter, now a Wall-Street broker of some sort, has come home, and when he loses his wallet there is no one to turn to but the neighbors across the street. That's where his high-school chum Donald (still) lives, and even though Peter just wants the loan of a few bucks and a ride to the funeral home, his erstwhile best friend expects more. And so the adventure begins.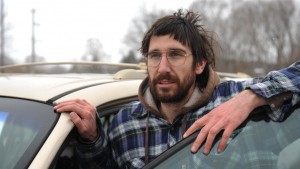 There is something a little off about Donald. Whereas Peter has moved on to some kind of success and is clearly an adult male, even if a selfish one, Donald seems trapped in the mind of a 16-year-old, with pornographic posters on his wall and a bong always at the ready. Once, however, these two guys grew up together, and as the film progresses, we watch as Donald tries desperately to reconnect with the man who left him behind. What's especially fascinating is how our own sympathies evolve over the course of the movie. Donald starts out as an annoying and intrusive motormouth, but as the story progresses we find ourselves more on his side than we could have imagined at the start.
Both leads – Wakeman and Avedisian – deserve enormous credit for keeping us interested in their at-times fundamentally unlikeable characters. We believe, watching them, that they have in common years of shared experience, from which one of them has tried to escape while the other has remained trapped. Despite the many verbal exchanges, what is particularly remarkable is how much information Avedisian, as both director and actor, is able to convey in purely visual terms. Behavior tells the story more than the words, and he allows the camera in close to reveal many an emotional truth. At times funny, at times sad, and always profound, Donald Cried is a brilliant off-beat dramedy that showcases a vibrant new talent.
– Christopher Llewellyn Reed (@ChrisReedFilm)