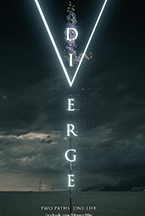 (James Morrison's low-budget, high concept apocalyptic thriller Diverge has been gathering buzz on the festival circuit over the past year. The festival rounds continue for the film as it will be playing at the Bushwick Film Festival at the end of September, Charlotte Film Festival the same week, and the Tallgrass Film Fest in mid-October, where Diverge is nominated for their "Stubbornly Independent" award.)
What to do if you have sweeping cinematic ideas and little money? Many independent filmmakers wrestle with this question, to which the obvious answer is: don't write expensive movies. If one loves science fiction, then that could pose a problem, although not all sci-fi need be pricey. Just ask Colin Trevorrow, whose 2012 Safety Not Guaranteed, about it's hero's desperate need to believe in time travel, cost just $750,000 (and made over $4 million, the relative success of which led to Trevorrow next being offered … Jurassic World). Or ask Hilary Brougher, who made one of my favorite indies of the 1990s, The Sticky Fingers of Time – another time-travel movie! – on a budget of only $250,000 (sadly, she did not make the same profit as Trevorrow). Still, if one has limited resources, then one must substitute cleverness for cash. Fortunately, writer/director James Morrison, in his feature debut, demonstrates just the right level of storytelling ingenuity to mostly pull off both concept and execution of Diverge, where we start with the apocalypse and then work backwards to how it the tragic end began.
There must be something about time travel and small budgets (though figures are not currently available for Diverge, this is certainly no studio picture). Perhaps it's the knowledge that, if you write it correctly, much of the action can take place in our present; all you need is a good opening to make us believe the set-up. In the case of Diverge, we begin with salt flats, where a bedraggled man and woman wander, dazed and distraught. In the distance, we see a faraway burning metropolis (the biggest visual effect in the film). Humanity, it seems, has done something very wrong. Are these the last two survivors? Maybe, They come upon a dead animal and then a dead person, scanning both for…something (we'll find out soon enough). Then, one night, another man appears in the dark, and through him, we learn more about the cataclysm that led us here. "You won't survive out here," he tells him, and while that prophecy comes true for one of them, it launches the other on an adventure back to the days before the disaster, on a mission to stop it. Which returns us to our time, and the look and feel of a particularly well production-designed indie film.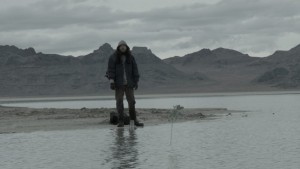 There are issues, for sure, but for the most part this is a very impressively rendered tale of hope amidst despair, part La Jetee (and its later remake, 12 Monkeys) and part The Road. With a great cast – mostly just Ivan Sandomire (Restive), Jamie Jackson (White Alligator) and Erin Cunningham (Love Is a Thieves' Game) – the film almost makes us forget that some of the scenes are strangely depopulated (even when they shouldn't be). Morrison has a fine way with actors; would that he displayed the same skill in garnering extras. It's a small quibble, as otherwise the story moves along nicely (though there's virtually nothing nice about the outcome of this eerie tale). At 85 minutes, Diverge never overstays its welcome, and proves, time and again (remember: time travel), that low-budget science fiction can more than deliver.
– Christopher Llewellyn Reed (@ChrisReedFilm)