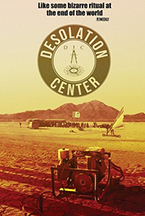 (The 2019 Slamdance Film Festival takes place January 25-31 in Park City Utah. Hammer to Nail guarantees more reviews from the fest than any other website around. That alone is worth $1.00 per month to help keep us going!) 
A film made using mostly archival video footage and photos, supported by present-day talking-head interviews, Desolation Center brings us back to the punk scene of early-1980s Los Angeles, when LAPD Chief Daryl F. Gates ruled over the city with an iron fist and did not like (among many other things and people he did not like) what the rising generation was up to. After many attempts to set up concerts within the city limits were disrupted by the police, young organizer Stuart Swezey, just 23 in 1983, decided to move out to the desert (and later to other locations). He called these innovative series of performance-art punk concerts "Desolation Center," and a good time was had by all. Though Swezey only put together four shows – the last in 1985 – the legacy of "Desolation Center" lives on in such recurring live events as Burning Man, Coachella and Lollapalooza. And since he's also the director of this fascinating historical documentary, we get all the inside info and then some.
We start with a basic description of the punk scene and a montage of the clubs of the time, with their openness to people of all races and sexualities. Swezey then gives us the lowdown on the hot bands of the time, including The Minutemen, The Meat Puppets, Suburban Lawns, and The Screamers, among others. He then explains what how much the establishment, headed by Gates, hated – or rather, feared – these crazy kids with their unfathomable music and anarchic ways. From there, Swezey details how his early concert efforts were shut down by the police, and how he chose the Mojave Desert as an ideal location, instead. And then we're off! Let the raucous mayhem begin.
First there was "Mojave Exodus" (4/24/83), then "Mojave Auszug" (3/4/84), then "Joy at Sea" (6/15/84) – when Swezey and cohorts left the desert for a concert on a cruise between California's San Pedro and Long Beach – and finally "Gila Monster Jamboree" (1/5/85). More than just musical events, each concert featured a variety of performers, including the explosives-obsessed gentlemen from the Survival Research Laboratories, who blew up some boulders (or tried to, as the desert is a fierce competitor) while the music raged. The acts who came were a who's who of the punk world, including the German Einstürzende Neubauten and the then-New York-based Sonic Youth (who transitioned to the West Coast largely thanks to "Desolation Center"). Parties in the desert (and on a boat) have never raged so hard. And thanks to this entertaining look back at the past, they are chronicled for all to revisit, for now and evermore.
– Christopher Llewellyn Reed (@ChrisReedFilm)
Like what you see here on Hammer to Nail? Why not pay just $1.00 per month via Patreon to help keep us going?