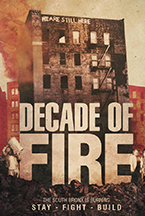 (The 9th annual DOC NYC ran November 8-15 in New York City. Lead Critic Chris Reed was there so stay tuned for his review and interviews…)
A solid history of the ten-year period when New York's Bronx borough mostly burned to the ground, Decade of Fire is also a deeply personal documentary, narrated by someone who lived through the conflagration and has since devoted her life to rebuilding her community. Vivian Vázquez is her name, and she is also the co-director, along with Gretchen Hildebran (Out in the Heartland), of this insightful look back at a time when one of the United States' major cities allowed a once-vibrant neighborhood to fall into neglect and disrepair, conditions which led to the fires. This was the 1970s, the tail end of the mid-century obsession with "urban renewal," a term that added insult to injury, since the only rejuvenation happening in the Bronx, it seems, were the flames starting anew in building after building. Decade of Fire offers a moving portrait of what life was like under these conditions, and how people survived.
We start in 1973, with images of apartment complexes ablaze, and on-screen stats informing us that over 80% of housing burned down at that time, leaving 250,000 people without homes. Who was to blame? The narrative of the era placed guilt squarely on the shoulders of landlords and inhabitants, those doing it for the insurance and those doing it because they were hoodlums. It turns out there is some truth to the former claim, since building owners, amazingly, could receive large payouts without any requirement to restore their property. This explains part of what happened, but that was more symptom than cause. Instead, as we learn, a toxic combination of financial mismanagement and subsequent desperation to cut costs led the New York Mayor's Office to reduce resources – including firehouses – in the city's poorest quarters. One think led to another, and eventually it was just easier to let the Bronx burn.
That's a reductive summary of the history, for sure – you'll have to watch the movie for the full details – but gets at the heart of Hildebran's and Vázquez's cinematic mission. They are here to rehabilitate the reputation of a much-maligned borough and expose the process of redlining, whereby institutions – public and private – conspire to deny access to needed services to those who require them most. The bitter irony that then follows is the smug condescension of the ones who have rigged the system against the victims of their manipulation. It's a vicious circle, which Decade of Fire meticulously deconstructs, also revealing how the Bronx went, up until the 1960s, from a prosperous, middle-class, multi-ethnic neighborhood to a place populated primarily by poor people of color. That the white flight was subsidized by government assistance, via mortgage loans and new highways, is but another example of how federal and local bureaucracies abandoned the Bronx.
Fortunately, the Bronx did ultimately stop burning, though its endemic poverty has not disappeared. Vázquez is still there, working as an educator, having successfully raised a family, as well. Her resilience mirrors that of her neighbors, who have labored hard, since the 1970s, to reestablish pride of place and sense of purpose to the area. Unfortunately, as the film ends, we learn of New York City's latest renewal plans, on Jerome Avenue, that may lead to gentrification and displacement. Perhaps it's better than burning out residents, but ultimately just as destructive. Some things never change.
– Christopher Llewellyn Reed (@ChrisReedFilm)