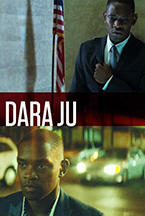 (The 2017 SXSW Film Festival opened on March 10 and ran all week until March 18. HtN has you covered and GUARANTEE more coverage than any other site! Check out this review of  Dara Ju, Anthony Onah's feature debut.)
Seyi (pronounced "Shay") Ogunde was raised in the United States, of Nigerian-born parents. As with many immigrant families, the children are culturally apart from the older generation, while perhaps not entirely comfortable in their new land. In Shay's case, he wants nothing more than to forget his roots, and so he hides his background from co-workers, his new girlfriend, and anyone who asks. All he desires is to be a success in his job on Wall Street, where the big trade could be the one that propels him further up the ladder. Unfortunately, as the only black face in the firm, he stands out, regardless of national origin, and not in the way he would like. Which is why he works harder than everyone else – albeit, thanks to some regular popping of Adderall – to prove that he can be "dara ju," which in Yoruba, the language of Nigeria, means "better." Like another black man daring to do a white man's job – Obama – he knows he cannot even appear to slip up. So, of course, he does.
It's giving nothing away to reveal that plot point, since all good drama must flow from conflict, which implies crisis: why tell this story about this person now? Well, crises there are many, both personal and professional, not all of Seyi's making, but none helped by his deep self-loathing as a black, male immigrant in a world that sees those like him as dangerous others. About the only person with whom he is honest is the Nigerian doorman of his office building, who offers this pearl of wisdom when Seyi comes to him for desperate advice: "Don't buy Mexican food from Vietnamese people." I think we can all agree that these are words to live by.
As Seyi, Aml Ameen (The Maze Runner) brings an intensity of focus and drive that more than makes up for his small stature (compared to his co-stars). He will do whatever it takes to win, even if it nearly kills him. As Liz, that white girlfriend – a medical student at Columbia – Lucy Griffiths (Uncanny) is a powerful force of integrity that pushes against Seyi's zeal to escape his past. Then again, she's not the one the sight of whom causes women on the street to clutch their handbags more tightly. Together, they are perfect partners and foils for each other, and out of their conversations they both emerge transformed, especially Seyi. I love how she effectively serves as a "magical white person," as if Onah were reversing the long tradition of the "Magical Negro."
Not all of the film is as up to the challenge of carrying this complex story, however. Far too often, writer/director Onah (himself born in Nigeria), whose first feature this is, resorts to expositional dialogue that results in scenes far too on-the-nose for their own – and the movie's – good. That (not insignificant) flaw aside, this is an otherwise assured debut that is part social-drama, part corporate thriller, and very watchable as both.