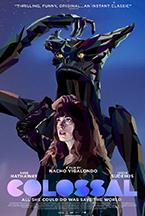 The 2017 SXSW Film Festival opened on March 10 and runs all week until March 18. HtN has you covered and GUARANTEE more coverage than any other site! Check out this review of Colossal, the latest by Austin's favorite adopted son, Nacho Vigalondo.)
There is no denying that alcohol is ruining Gloria's (Anne Hathaway) life. Having the perpetual safety net of her wealthy boyfriend, Tim (Dan Stevens), probably isn't helping matters. When Tim finally lays down the proverbial hammer, Gloria finds herself back in her childhood home in bumblefuck somewhere. Long since abandoned, Gloria's childhood house is completely empty, but it seems to be just the escape that she needs. Enter Oscar (Jason Sudekis), a person from Gloria's past, who offers Gloria a waitressing job at his bar.
At this point, anyone who doesn't know the magnificently warped mind of writer-director Nacho Vigalondo will probably assume that Colossal is just another sappy romance about a failed protagonist who returns to her childhood home to make cute with an old boyfriend. And, actually, maybe you should just go on believing that and stop reading right here, at least until you see Colossal. Because I, for one, would absolutely love to experience this film as someone anticipating a romantic film featuring Anne Hathaway and Jason Sudekis.
For those of you still reading, I should probably come clean and admit that the premise of Colossal is kind of ridiculous. There is really no point in even explaining it. However, the topics that Vigalondo covers in Colossal are pretty damn powerful. I often found myself wondering what it would be like to watch this film as a woman, specifically a woman with an alcohol problem. But, I digress…
Vigalondo's understanding of the struggles with alcohol, the way it affects others, and the way others affect the alcoholic is fantastically astute. It is that last point that really resonates within Colossal. At first, it is Tim who has the control over Gloria. Yes, Gloria has repeatedly lied to Tim, but his holier-than-thou condescension is intended to shame and manipulate her, to make her feel like shit, without providing her with any tools for recovery. And when Oscar discovers Gloria's affinity for alcohol, he learns how to control her actions like a puppeteer. This is not to take any of the blame away from Gloria – she really needs to get her shit together – but Tim and Oscar are both manipulative pricks.
Next is Vigalondo's portrayal of abuse, which is extraordinarily monstrous, to say the least. This is where I really want to know just how women will react. As a man, I feel like these scenes empower Gloria and give her the confidence that she needs to overcome her situation. It seems as though Vigalondo is abundantly clear in his perspective that violence against women is wrong. The violence is by no means gratuitous or humorous – in fact, Vigalondo ensures that the reaction is crippling silence.
And let's return to that concept of a failed protagonist who returns to her childhood home… Colossal is figuratively and literally about facing one's demons head on, specifically those from the past. The metaphor of demons might be a bit on the nose, but I'd like to believe that it's all for comedic impact. Because despite tackling the dark and depressing subject matter of alcoholism and abuse, Vigalondo is an unadulterated humorist at heart. Somehow, Vigalondo is able to pull the humor off while still playing the feminist card. It's really quite astounding. And, yes, #sheiscolossal.
– Don Simpson (@thatdonsimpson)