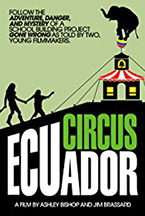 (The 24th Annual Slamdance Film Festival ran January 19-25 in Park City, UT. Hammer to Nail has you covered and guarantees more coverage than any other site. Watch us work it!)
A movie sure to drive experienced documentarians and docuphiles crazy – at least at first – given the sincere naïveté and lack of polish of its directors, first-time filmmakers Ashley Bishop and James Brassard, Circus Ecuador rewards the patient viewer with a bizarre tale of intrigue and ineptitude that, after a rocky start, more than holds one's attention. The two novices began shooting in 2010, stayed on the job for just a few months, and are only now releasing the fruit of their efforts (the editing of 80 hours of raw footage). I'm not trying to be cruel, as the film truly fascinates, but it's a bit of a train wreck, in many ways. Perhaps that's its appeal. Whatever the reason, I found myself glued to the screen, unable to look away. Kudos to them, then, for creating meaning out of chaos. Circus, indeed!
Jim and Ashley meet their main protagonist, twentysomething Elizabeth Gray, in Albany, where they both are students – he in Communication, she in Anthropology – as she is raising money for her project to build a school for the Wishi (an indigenous community) in Ecuador. Bright-eyed, charismatic and very persuasive, Elizabeth and her stalwart companion-in-arms, Greg Sheldon, visit group after group, gathering the $15,000 they need to get things started. Along the way, they convince romantic partners Jim and Ashley to drop out of school and join them, which they do. It's a bit of a rash decision, especially since, unlike Elizabeth and Greg, neither Jim nor Ashley speak Spanish. But that's what youth is for, impetuosity, and if one survives such strange adventures, what a tale one will have to tell.
What happens next goes from normal to odd to surreal at near light speed. On December 31, 2010, the group is in Quito, Ecuador's capital. Barely a week later, they are in Palora, to the southeast, on the edge of the vast jungle of the interior. They meet with Elizabeth's local contacts, including a man who once proposed marriage to her, and when these men don't like what they hear about the construction contracts, things quickly turn sour. Elizabeth, once confident, shuts down. Greg, who has other business in Ecuador, as well, returns to find his friend transformed, unable to proceed as planned, all too willing to defer to him. They arrive at their destination village, and though Elizabeth brightens when she sees the children she befriended on previous visits, she shows no interest in managing anything or anyone. Greg is visibly frustrated, and we're not quite halfway through the film (which, at 130 minutes, could use some additional trimming, however interesting it is). And on and on.
Before it is all over, we will have heard stories of alien artifacts, murder, human sacrifice, slave trading, petroleum theft, gold mining and espionage. Friendships fall apart. And all along, we're in the middle of the dire poverty that motivated Elizabeth and Greg to want to build a school in the first place. Do they succeed? No more plot spoilers here, but let's just say that before we get to the end there are many more surprising twists and turns beyond what I have already described. It just proves the truth about documentary filmmaking that being where the action takes place can often be as important as one's skill at capturing it. The camera sees what it sees, and here it sees a lot. I commend Jim and Ashley for their perseverance. It was worth it.
– Christopher Llewellyn Reed (@ChrisReedFilm)