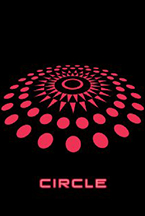 (The 2015 Seattle International Film Festival started May 14 and ran all the way until June 7. HtN was on the scene and a festival wrap-up is coming later this week. In the meantime, check out this review of Circle, the latest from filmmakers Aaron Hann and Mario Miscione).
Circle is the most fun you can have watching a diverse group of strangers get systematically executed. Aaron Hann and Mario Miscione crafted a shrewd script for their Twilight Zone inspired morality tale about fifty people who are forced to stop being polite and start getting judgmental.
It begins with everyone returning to consciousness after a blackout, to discover that they are standing in a circle, facing each other, in a dark room. They soon learn that they cannot move too much or try to step off the red dots under their feet, lest a machine in the middle of the room electrocutes them. And that's not even the bad news. Every two minutes, the machine also kills one person at random. They can't stop the death, but they do have the power to choose the next victim by popular vote. There are other rules and nuances that they ascertain along the way, all of which play into their harrowing discussion about who should be the next to die and if "winning" this sadistic game is even an option.
The cast of Circle is as ensemble as it gets. Many characters have only a line or two. Others never speak a word. When you know that almost everyone in the room will be dead in approximately ninety minutes, that doesn't leave much time for exposition or character development. Immediately, strong personalities emerge, attempting to organize the group and make cases for sacrificial order. The action unfolds, more or less, in real time and the camera never leaves the room, which heightens the intensity for the viewers.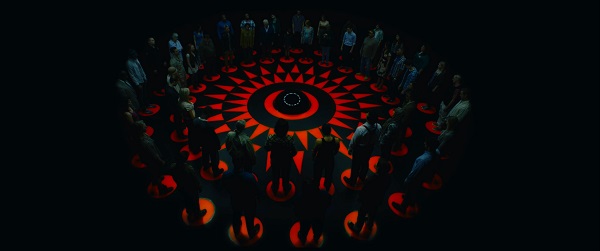 When it becomes clear that there's no way to stop what's happening, they feel they must collectively elect the last person standing. They all agree that it's basically a toss-up between a child and an unborn baby (the mother of whom gets a pass for being the incubator). Without the presence of these "innocents," the group could have agreed to just let the machine decide their fates. Everyone has a reason for being expendable if you dig deep enough. Ultimately, death order doesn't matter because all but one (at most) will walk away. Despite this inevitability, and agreeing upon who to spare, most of them succumb to the human instinct to hang on to life for as long as possible. So the bulk of dialog consists of ranking everyone's worth. Being old, promiscuous, mean, boring, or unfaithful are all a more immediate death sentence. Bigots are targets in moments when the majority isn't guilty of their own bigotry.
For once, the filmmakers are given a pass for not developing their characters. There's simply no time. These people are forced to vote based on initial impressions and outward appearance. Not getting to know your characters also helps keep the story allegorical, which lessens the emotional blow of such senseless killing. It would be harder to enjoy the twists and turns of the plot if you genuinely felt for these people.
Casting also plays a part in preventing audience preconceptions. There are some familiar faces, but, for the most part, the actors are as much strangers to us as they are to each other. Lack of recognition helps place the viewer in the same headspace as the characters.
There are one or two missteps in the performances. But nearly everything about Circle is deliberate and dense. It's not an easy feat to create such heady sci-fi on a shoestring budget. But Hann and Miscione, who previously helmed a similarly toned web series (The Vault), have shown tremendous skill in that arena. You can see some of the deaths coming, but there are also plenty of surprises. They keep you on your toes till the bitter end. I'd love to see what these guys could do with some money behind them.
– Jessica Baxter (@TehBaxter)