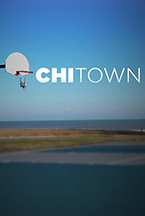 (The 2018 SXSW Film Festival kicked off March 9 and runs all the way through to March 17. Hammer to Nail has a slew of reviews and interviews coming in hot and heavy so keep your dial tuned to HtN!)
It's impossible to watch the new documentary Chi-Town, from first-time feature-director Nick Budabin, without thinking of Steve James' great 1994 Hoop Dreams (also a first feature). Both movies focus on high-school basketball players from disadvantaged neighborhoods in Chicago, following the up-and-down trajectories of their hopes and, yes, dreams. Whereas James chose multiple subjects and traced their high-school careers, however, Budabin aims his lens squarely on his lone protagonist's college life and attempted entry into the pros. Though I, myself, have no particular interest in, or knowledge of, the sport in question, I nevertheless found Budabin's brisk (just 80 minutes) profile of a young man struggling to beat the odds quite compelling.
Keifer Sykes is our guy, 17 years old when the film begins. Short of stature (just 5'10", though we hear it inflated to 5'11" and 6'0″, at times or maybe he just continues to grow), he nevertheless dominates the basketball court, his high-school team's pride and joy. Recruited by the University of Wisconsin-Green Bay, he knows he'll miss his family – his mother, father, and young cousins – but perhaps not his native Chicago. As the first section of the movie makes clear, life is tough for young people of color and without great means in that city, with gang-related violence a major constant of their lives. Green Bay offers a refuge from all that, and an opportunity for Keifer to lay the foundation for a (hopefully) great professional post-college career.
Indeed, the middle section of the documentary, despite some setbacks for Keifer, contrasts his own, positive journey with the more tragic one of those left behind. Friends are shot or arrested, lives shattered. Keifer makes a terrific main character, reflective and mature beyond his years as he contemplates his own good fortune and the path ahead. He's also a father – though his girlfriend lives in Chicago, rather than Green Bay – and so perhaps this thoughtful side comes from the need to balance school, basketball and parenting. Good as he is – and he is a star at Green Bay, just as he was in high school – there is no guarantee that he'll make it onto a professional team, as there are thousands of gifted players like him. And, once more, he is below average in height, something mentioned time and again.
Budabin should be praised for his masterful assembly of over four years' worth of footage into a solid, coherent narrative. By the end, we feel fully immersed in Keifer's world and thoughts, engaged in the many challenges he faces. Given the talent on display, we can only hope that both director and subject have many good years ahead of them.