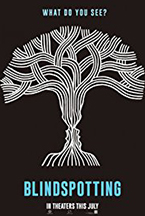 (The 2018 SXSW Film Festival kicked off March 9 and ran all the way through to March 17. Hammer to Nail has a slew of reviews and interviews coming in hot and heavy so keep your dial tuned to HtN!)
The debut feature from Carlos López Estrada, Blindspotting is written by its two stars – cinematic newcomer Rafael Casal (a veteran performer and founder of the #BARS project at New York's Public Theater) and theater/TV star Daveed Diggs (Hamilton) –and set in Oakland, California, from which both men hail. It's a raw, personal story that combines biting humor and stark violence to showcase the sharp racial and class inequalities in many or our country's urban centers. With strong performances all around, the film engages the audience in a deep discussion of contemporary issues without offering simplistic, reductive answers to complicated problems. Painful to watch, at times, it is also very, very funny and a work of gloriously intelligent cinema.
The movie opens with Collin (Diggs) at the end of a jail sentence, sentenced to a year's probation in a halfway house, then flashes quickly forward to the final three days of that probation. He works for a moving company run by ex-girlfriend Val (Janina Gavankar), spending his days on the job doing pickups with best friend Miles (Casal). Collin is black, Miles white, though both are from the same Oakland 'hood. Of equal working-class background, they speak the language of the streets, occasionally breaking into hip-hop poetry in their commentary on the world around them. Urban bards they each may be, but their smarts don't seem to offer much opportunity to break out of a cycle of drinking, smoking and near-crime, despite the desire to just live as normally as possible. Collin, especially, seeks to re-establish himself as a trustworthy member of society. Miles is his support system, but also a potential hindrance to growth.
Blindspotting (the term means the inability to see what is right in front of you and comes from a psychology lesson Val studies in her own quest for betterment) follows Collin and Miles as they struggle to define themselves in a universe that already has them pegged as losers. Their comic misadventures, often buoyant and a delight to behold, are always one step away from tragedy. As Collin's probation countdown slowly moves towards zero, it is unclear how the story will end, and on which genre it will settle. And that is the great strength of the film: we're never sure where it will go, and so expect the unexpected. The powerful performances provide ample support to the twisting narrative, and by the cathartic conclusion, we are hooked. With director López Estrada's additional fine flourishes of mise-en-scène, the movie becomes a magnificent meditation on the state of the nation, and a profoundly rewarding viewing experience.
– Christopher Llewellyn Reed (@ChrisReedFilm)