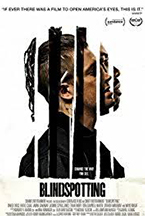 (The longest-running film festival in the Americas, the San Francisco International Film Festival (SFFILM) ran April 4-17, 2018. Hammer to Nail has reviews coming your way!)
Carlos López Estrada tackles such a staggering number of themes in his feature debut, Blindspotting, that it almost feels like too much for one film. Then again, that may be part of the point. The truth of the matter is that gentrification, police shootings, racial profiling, cultural appropriation, and post-incarceration trappings don't take turns affecting people on a daily basis. If we can't handle it for 93 minutes, imagine how it feels to the people who can't get away from it. Despite an implausible ending that dramatically shifts the film's tone, Blindspotting is a candid, and occasionally humorous, look at the systematic oppression of the disenfranchised residents of Oakland, CA.
Stars, Daveed Diggs and Rafael Casal spent nine years writing the script, a story set in their native city. Diggs (Hamilton, Blackish) plays Collin, an African American ex-con with only three days left on his probation, so long as he can stay out of trouble. But trouble seems to find Collin wherever he goes. Much of the credit goes to his ever-present and volatile best friend, Miles (Casal), who is white. Miles and Collin are a walking sociology study. They grew up on the same side of the tracks, and both were involved in the violent incident that sent Collin to jail for a year. But the police didn't give Miles a second glance when they came to arrest Collin.
Collin doesn't blame Miles. And besides, Miles has a partner and child to look after. Their lives are intertwined through history, family, and work. They have fun together, trading freestyle rhymes and barbs about the hipsters who have invaded their neighborhood. But every minute Collin spends with this ticking time bomb with a heart of gold jeopardizes his chance at a clean slate. On top of it all, Collin is haunted day and night by having witnessed a man gunned down in the street by a police officer who unquestionably overreacted.
In a riveting opening credit sequence, Estrada invokes early Spike Lee. Instead of Rosie Perez dancing furiously on the streets of Bed-Stuy, we get side-by-side comparisons of old and new Oakland. Collin and Miles have had to stand idly by as the Silicon Valley tech boom slowly infected their city with a Whole Foods, bearded hipsters on tall bikes, and $10 green juice at the bodega. We meet Collin at his probation hearing, as a judge warns him that he must live the next year of his life on thin ice. Even a parking ticket could send him back to jail. This makes Collin understandably cautious in his day-to-day interactions with almost everyone. He's also on a sort of emotional probation with his former girlfriend, Val (Janina Gavankar).
They don't reveal Collin's crime until mid-way through the film, after we've already gotten to know this diligent man who is desperate to get his life back on track amid constant adversity. Collin did exercise poor judgement in the situation, but there were extenuating circumstances. Of course, none of that matters to law enforcement who only see Collin as a "black guy with dreads" and therefore a criminal. While Collin learns that the road to hell is paved with good intensions, Miles discovers that even an Oakland native who grew up poor with a black best friend, wife, and mixed-race child can misunderstand his white privilege.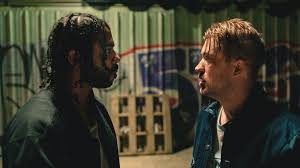 In the film's lighter moments, Collin and Miles traverse Oakland as employees of a moving company, noting – with a mixture of humor and sadness – the changes brought on by tech bro gentrification. As real-life best friends, Diggs and Casal have terrific chemistry and it's thrilling to watch them freestyle together.
Sadly, Blindspotting fails to represent its female characters beyond offering sage advice and emotional support to the men in their life. Val presents the titular concept while studying for her psych class. "Blindspotting" is her pneumonic device for Rubin's Vase – the image that either reads as a vase or 2 faces in silhouette, but never both simultaneously. Jasmine Cephas-Jones (another Hamilton alum) has a small but crucial role as Miles partner. Collin's mother – a former Black Panther – gives a voice to those who refuse to vacate their homes despite rising property values. "I'll be damned if I'm gonna move out of the neighborhood now that they got good food and shit", she tells him.
The mounting tension explodes in a 3rd act confrontation that Diggs somehow manages to sell despite its extreme implausibility. The scene feels incongruous because the rest of the film is so grounded in reality. It's a jarring shift from vérité to allegory. But I'll be damned if Diggs doesn't bring power and candor to every second of his performance. This is a man on the cusp of well-deserved superstardom. Blindspotting is your chance to say you were a fan of his early work.
– Jessica Baxter (@tehBaxter)