BERLINALE '10 WRAP-UP – Part Two
The Panorama section of the Berlinale Film Festival presents new works by established directors, as well as showcasing début films and new discoveries. "It attempts to bridge the divide between artistic vision and commercial interests." Audiences are challenged with a wide array of films very few people are able to see—anywhere. This is really where most festivals, this one included, really shine, since it's a chance for daring artists to meet a sophisticated critical audience that not only takes film seriously, but takes in and thinks about literature, art, philosophy, culture, family, politics, religion in deep and substantive ways. We are hungry for cinematic works that contextualize the human condition by exploring our history, focusing on current world events and casting speculative glances into an uncertain future.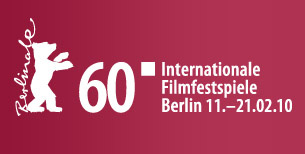 Both in style and in content, the Panorama's film selection is extremely diverse with auteur cinema at its core. All films in the Panorama section are, outside of their countries of origin, either world or European premieres and members of the audience and the press have an opportunity to discuss the films with the directors, producers and actors. Panorama Dokumente, as well, offers a special focus on the world's most interesting nonfiction films.
A number of prizes from the Independent Juries are awarded as part of Panorama, which include the "Teddy Award," the world's most important queer film award, which started out in Panorama and can be awarded to films from any section of the Berlinale. This year, Lisa Cholodenko won the Teddy for Best Feature for her latest piece, The Kids Are All Right, and another American filmmaker, Jake Yuzna, won the jury prize for his innovative and deeply moving first feature, Open, inspired by the life and work of Genesis Breyer P-Orridge. (French visual artist Marie Losier is currently completing an intimate and artful documentary portrait on Genesis, as well.)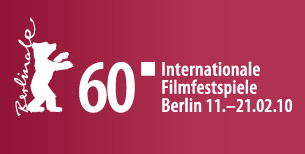 Also, several independent juries award their prizes to Panorama films, including the FIPRESCI, Amnesty International, the Ecumenical Jury and Label Europa Cinema awards. Here are all the award winners from this year.
Panorama has its roots in the "Info-Schau," which during the 1970s was a complimentary section of the Competition program. Since 1982, Wieland Speck has been part of this team, and in '86, he named it Panorama. The section's commitment to gay, lesbian and transgender film was already clearly visible in the '80s, and today, this commitment is internationally regarded as one of the Panorama`s outstanding qualities. The Teddy Award will celebrate its 25th anniversary next year.
Here are some of the Panorama films I managed to catch at this year's fest, both in and out of competition:
Panorama Special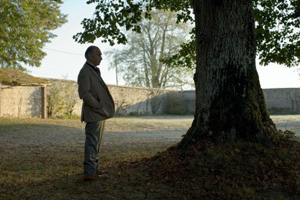 L'Arbre et la Foret (Family Tree) (directed and written by Olivier Ducastel and Jacques Martineau) — Frédérik, played by Guy Marchand in a beautiful performance, runs a tree nursery. He is one of those quiet, dedicated men with a deep secret only his wife and eldest son know about. His son's death loosens something in him but he chooses not to attend the funeral. He is angrily rebuked for this by the alcoholic Guillaume (Francois Negret), which leads to a heated exchange between the other family members in which the secret is revealed: when Frédérik was twenty years old and France was occupied by Germany, he was deported to a concentration camp for being homosexual. This magnificently shot piece contains many quiet, subdued confessions between characters that build to a deeply emotional portrait of a family revisiting its newly discovered history. Beautiful cinematographic work by DP Matthieu Poirot-Delpech.
Kawasakiho Ruze (Kawasaki's Rose) (directed by Jan Hrebejk) — Pavel Josek (Martin Huba), once a political dissident, is now a respected doctor and beloved family man. At the beginning of the story, his grown daughter Lucie (Lenka Vlasáková) is very ill. When she recovers, she discovers her husband, Ludék (Milan Mikulcik), has been unfaithful. Ludék is also extremely jealous of all the attention paid to his revered father-in-law, who is being featured in a documentary celebrating his life and work. Ludék is working on the film as a sound engineer and discovers a blot in Pavel's story. In the '70s, he worked for the Czech secret service as an informer, betraying a friend who was forced to flee the country, a man who, it is discovered, is the biological father of Lucie. Like L'arbre et la Foret, this is a highly proficient and subtle work with strong performances (also gorgeously shot in 35mm CinemaScope) on one family's (re)discovery of their past, both personal and collective memory resonating to create a quietly painful portrayal of guilt and forgiveness. The screenplay, written by Hrebejk's long-time collaborator Petr Jarchovsky, received the Sazka Award in 2009.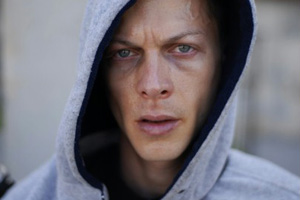 Phobidilia (directed by Yoav Paz and Doron Paz) — The brothers Paz have created a singular vision in their first feature. Born into a family of stage and film directors in Natanya, Israel, they began working in the music video and commercial world. The film's protagonist, the young Regev Wainblum (Ofer Shechter), has experienced a profound personal crisis that was very public. He withdraws from the world and holes up in his apartment, having his food delivered to his door, watching hours and hours of television and finding companionship on the Internet. After four years of this, estate agent Grumps (Shlomo Bar Shavit) pays him a visit and tells him he's been ordered by the landlord to kick Wainblum out so he can sell the apartment. Grumps is a holocaust survivor (a survivor because he knows something about hiding out), a tough old man who won't take no for an answer. Daniela (Efrat Baumwald) also pays a visit doing door-to-door market research and the two are soon embroiled in a passionate, but totally misunderstood, love affair. Both Grumps and Daniela try to coax Wainblum out of his lair, but he resists them both, his relationships with them devolving into a fight to the finish in his commitment to never, ever leave and go outside again. The Paz brothers get extremely strong and well-defined performances from their small cast, each of whom give riveting performances.
Panorama
Son of Babylon (directed by Mohamed Al-Daradji) — This film takes place in 2003, three weeks after the fall of Saddam Hussein's régime. In the north of the country, Kurdish 12-year-old, Ahmed, sets off on a journey with his grandmother in search of his father, a man he has never met since he was arrested at the end of the Gulf War by Hussein's Republican Guard. They meet fellow travelers along the way, people also searching for loved ones gone missing for years. Yassir Taleeb and Shezad Hussen, who play Ahmed and Um-Ibrahim, respectively, give naturalistic and resonant performances. They are not professional actors; Hussen, in fact, is the only female witness to testify during the trials against Saddam Hussein and his reign of terror. At times, I felt like I was watching a documentary film (and that's high praise from me). Al-Daradji, the co-writer and co-DP, creates an intense intimacy in his second feature. Born in Baghdad in 1978, he studied art there and then moved to the Netherlands to study film, completing his cinema studies in the UK. Also coming from the commercial world, he gives the film technical and cinematic heft without losing the emotional soul of this large story writ small. Beautiful—I was deeply moved by this film. This won both the Peace Prize and the Amnesty International Film Prize, both juried awards.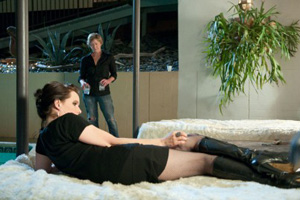 The Owls (directed by Cheryl Dunye) — Dunye is an American director/writer/actor to watch. Her film, co-written with Sarah Schulman and shot by Alison Kelly, tells the story of "The Screech," a band that was once hot a decade ago. Iris (Guinevere Turner) and Lily (Lisa Gornick) were the lead singers, MJ (V.S. Brodie) the producer, and Carol (Dunye) their resident groupie. These days, Iris drinks a lot and fantasizes about a big comeback. She and MJ were once a couple who split up years ago, but they're still tied to one another. Carol and Lily's relationship bores them to tears but they keep talking about having a kid together. The script is really brilliant and very funny and the film clocks in at an economical 67 minutes. Things get shaken up a bit by a young troublemaker (what else is new?) named Cricket (Deak Ergenikos). Jealousy, old rivalries and hurt feelings result in mayhem at a coked-up party that goes terribly awry and Cricket ends up dead. Her death bonds these feuding, discontented women and they patch up their differences and, together, get rid of the corpse. A year later, Skye (Skyler Cooper) shows up on Lily and Carol's doorstep ready to seduce and destroy. This film created something now called The Parliament Collective, a group of multiethnic lesbian and gay artists who worked on this project, developing the story together. Dunye, a Philadelphia native, won a Teddy Award for The Watermelon Woman in 1996.
Plein Sud (Going South) (directed by Sébastien Lifshitz) — Lifshitz also received a Teddy for a previous film called Wild Side in 2004. His fist film since then is a moody "Western," quiet, intense and luminous, a classic summertime road movie. Sam (Yannick Renier) picks up two hitchhikers in his old Ford as he's heading to the south of France so he won't be too bored on his journey. Léa (Léa Seydoux) and Mathieu (Théo Frilet) are brother and sister. The whole film takes place on the journey as these relationships emerge in a confined space—yet, time and space are fluid. Everything is overshadowed by a secret Sam (who says virtually nothing throughout the film) holds close to the vest, but we discover his mission is one of revenge. As well, Léa and Mathius have secrets of their own. I was fairly bored with this piece—although it's quite visually stunning—until about halfway through. As I was sitting there contemplating whether to leave or not (I had walked out of two other films that day), I challenged myself to stay put. The film left me with a somewhat dissatisfied feeling, but it did resonate over the course of the next several days, mostly due to a challenging structure and the way the director played with time and memory. I think I actually want to see it again.
Open (directed by Jake Yuzna) — This film won the jury prize at the Teddy Awards, a complete and delightful surprise to this young first-time filmmaker from Minneapolis (although he's made his living as a DP for many years in the porn industry). Based on the life and work of Genesis Breyer P-Orridge, Open combines all kinds of cross-gender permutations. One of the protagonists is named Cynthia, a hermaphrodite. She meets Gen and Jay, a couple that has recently undergone plastic surgery enhancements to create a pandrogyne, a label Genesis, herself, coined to define a person created by both a man and a woman who go through facial and body surgeries to resemble one another until they look like the same person, two people able to merge their separate identities to become a single entity. Cynthia leaves her husband upon discovering Gen and Jay, and together they go on a road trip that illustrates the story of "what's left of the American dream." There's also a love story about Syd, a transgender woman who meets Nick. They fall in love and Syd becomes pregnant, a biological impossibility. But, that's where this film excels in its artifice and artistry to expand beyond the confines of our (limited) biology. The actors are authentic hermaphrodites and transgender people who all join forces to present alternative possibilities.
The one other film I want to talk about, which appeared at the Berlinale as part of the International Forum for New Cinema, is Matthew Porterfield's Putty Hill, one of the strongest selections I saw at the festival. Porterfield wrote a post about the making of Putty Hill on this very site. I will be writing a full review closer to the film's US début at this year's SXSW fest next month. But needless to say, seeing this very, very small film make its grand international début at Berlin was a thrill and an inspiration. Not to mention the fact that it received many invitations from several prestigious international film festivals and a distribution deal from Arsenal Film in Germany. Not bad for a $20,000 film shot in two weeks.
In my next post, some selections from the Panorama Dokumente.
— Pamela Cohn
ALSO:
***BERLINALE '10 WRAP-UP PART ONE***
***BERLINALE '10 WRAP-UP PART THREE***