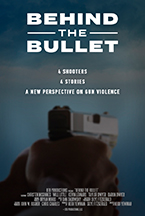 (The 2019 Slamdance Film Festival takes place January 25-31 in Park City Utah. Hammer to Nail guarantees more reviews from the fest than any other website around. That alone is worth $1.00 per month to help keep us going!) 
It's in the eyes, in multiple tight close-ups, that we see how the past haunts the present: four tortured souls who, at some point, pulled the trigger of a gun, each for a different reason. Director Heidi Yewman, in her powerful feature-documentary debut, Behind the Bullet, presents stories of regret and redemption (depending on the tale, not in equal measure) from a group of people whose lives were forever changed by a bullet they launched. There's Christine, who tried to kill herself; Will, who shot a man and served time in prison; Kevin, who killed an intruder in his home; and Taylor, who accidentally killed his brother when he was but a small child. There is no easy way for them to move on, but they try, and this is the chronicle of their respective attempts.
One of the great strengths of the film is Yewman's deeply intimate access to her subjects, who open up to her in raw, heartfelt interviews. Christen, with her disfigured features (she shot herself in the head, aiming upwards from the jaw), discusses her next bout of reconstructive surgery and the depression that led to her desperate act, contrition over the pain she caused family and friends informing every word. Will, now a careful, reflective man, has learned to live with his guilt and develop a relationship with the son born after his incarceration. Kevin, though an avid gun user, suffers from a form of PTSD and remorse, wishing things could have gone differently; his grief manifests itself the most directly when he has to put down a beloved dog, leaving him even more bereft. Taylor, now in his late teens, has surprisingly not abandoned firearms; in fact, he and his friends let off steam by blowing up objects in the woods, sometimes with guns. Even more shocking is how his parents and grandparents justify their belief in weaponry via religion. Given what we know of their history, it's an unanticipated development.
Indeed, the entire movie is built from the surprising revelations of its characters, who offer thoughts and ideas that defy expectation. Yewman, herself, attended Columbine High School (though before the shootings), and comes to the cinematic table with her own history as an advocate for gun safety. Still, she allows everyone to speak as they wish and lets us react on our own, rather than coloring the stories with overt bias. The result is a profoundly poignant exploration of the wages of violence, no matter the reason for or use thereof. Behind the Bullet brings us into the mind of the trigger puller in all its complexity, offering no easy answers, but an engrossing series of penetrating questions. Watch it and be transformed.
– Christopher Llewellyn Reed (@ChrisReedFilm)
Like what you see here on Hammer to Nail? Why not pay just $1.00 per month via Patreon to help keep us going?