(Landline and Ingrid Goes West both world premiered at the 2017 Sundance Film Festival. Landline was acquired by Amazon Studios and it opens theatrically on July 21, 2017. Ingrid Goes West was acquired by Neon and it opens theatrically on August 11, 2017.)
My critical faculties are reshaping themselves in this new era of cognitive dissonance, where gut instinct is more reliable than language. I was a teenager in the Clinton years and a young adult in the Dubya years. Now I feel myself drawn back there, a captive on a glitchy time machine where past and future have collided and collapsed into each other. I hate to view everything through a political lens, but it is what it is. So it was with some trepidation (mixed with relief) that I allowed myself to disappear into the BAMcinemaFest screenings this year. It was interesting to see what I responded to.
The silence of David Lowery's A Ghost Story was nourishing, and the film's shrouded grief stayed with me. Feeling haunted, tied to a home that has become hostile and strange, lost in time – the lovely, searing images expressed something about this moment I had struggled to articulate. It was also thrilling to see how Lowery has grown as a filmmaker, bringing some of the tools of his Disney adventure down under to a backyard indie film. In contrast, the casual misogyny of Alex Ross Perry's Golden Exits left me feeling tense and prickly. Morose white gentrifiers mooning around Brooklyn, his Pence-like men are incapable of being alone with a woman without reducing her to an object of lust. Chloe Sevigny and Mary Louise-Parker give compelling performances, but the film's vicious vision of "sisterhood" was really off-putting. For sharply written stories about dissatisfied young women I'd instead point to Landline and Ingrid Goes West, two films that explore the formation of identity and relationship from opposite sides of the digital revolution.
Landline is the second feature by Obvious Child director Gillian Robespierre. Jenny Slate reappears as Dana, a young Manhattanite who does the layout for Paper magazine and lives with her loyal fiancé Ben (Jay Duplass). Her younger sister Ali (Abby Quinn) is still in high school, an impulsive teenager who does her best to avoid her family's concerned meddling. Ali shares close New York City quarters with their parents Pat (Edie Falco) and Alan (John Turturro), who hover over their daughters while hiding tensions of their own. When the sisters discover that their father is having an affair, the dismaying news has an almost opposite effect on the two of them. Ali sobers up and channels her frustration with her mother into a hunt for the identity of the other woman, while Dana collapses even further into a regressive affair rather than confront her ambivalence about her own relationship. The family breaks apart then manages a shaky reconciliation that is restrained without minimizing the consequences.
Partnered again with co-writer Elisabeth Holm, there's a low key charm to Robespierre's storytelling that can obscure the intelligence and depth of the writing. Landline is a straightforward family dramedy, complete with angsty daughters, parental infidelity, and many confrontations and conversations. But Robespierre, who is shaping up to be a slightly sunnier heir to Nicole Holofcener, has a good ear for snappy dialogue that's heightened yet realistic. She also has genuine affection for her characters, a feeling shared by the uniformly strong cast. All hail Queen Falco, who is particularly brilliant as a career woman who suffers the dual indignities of being the spurned mother and wife. There's a nice visual gag where Pat catches Hillary Clinton on TV during her famous Beijing speech about women's rights, then reappears at work girded for a big presentation in a similar pink suit. Pat also shares Hillary's steely resolve, holding it together at work and at home in the face of indifference and insult. When she finally confronts her wayward husband her quiet fury and bitterness are devastating.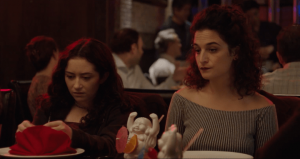 Beyond Clinton callbacks, Landline is shaped in crucial ways by its '90s setting. It's recent enough to seem almost contemporary, but over the course of the film the differences add up to something significant. The film's tagline is "1995. When people were harder to reach," which indicates how intentional this choice was. It's not about fetishizing the past, like the current crop of coffeeshop millennials rocking mom jeans and nodding along to '90s rap. Style is the least part of it, though I thoroughly enjoyed the spot-on references (the sisters joke about Lorena Bobbitt, have family dinners at a hibachi restaurant, and drunkenly dance to PJ Harvey's Down By the Water). I'm not sure Robespierre had any radical intentions, but I was shocked how soothing it felt to be immersed in that world. I think what I mean is privacy. The characters in Landline have secrets – they are able to make mistakes and hide from each other when they need to. There is no social imperative to curate and share and measure everything by how much other people like it.
I'm not a social media ascetic, but I'd say I'm skeptical, more of a lurker than an enthusiastic participant. I'm suspicious of the phantom twitch of Instagram, the way it has of turning vulnerable people into branded content. Matt Spicer's Ingrid Goes West takes this feeling and expands it into an acidic comedy about grief and loneliness. When we meet Ingrid Thorburn (an excellent Aubrey Plaza) she is living at home, still reeling from her mother's illness and recent death. She avoids her petrified grief by compulsively scrolling through feeds of other people's glamorous and happy lives, and when she discovers she wasn't invited to the wedding of a "friend" she crashes the party and pepper sprays the bride. This lands her (back?) in a mental institution for a round of group therapy and medication. Casting about for a way to change her life she discovers influencer Taylor Sloane (Elizabeth Olsen), a boho blond whose well taylored world is a place Ingrid very much wants to live. She cashes in her inheritance (she literally gets a bag full of cash from the bank) and goes to chase her California dream.
Like the embodied envy of social media loosed upon Los Angeles, Ingrid dyes her hair blond and stalks Taylor's favorite cafés and boutiques. When serendipity fails she steals Taylor's dog and then "returns" him, forcing her way into Taylor's good graces. Taylor's artist husband Ezra (Wyatt Russell) is less welcoming, but comes around when Ingrid buys one of his terrible paintings, and the magical Los Angeles life Ingrid so desperately wants begins to take shape. She goes to fashion launch parties and Joshua Tree and fills her apartment with pottery and cacti. But when Taylor's obnoxious brother Nicky (Billy Magnussen) comes to town he picks up on Ingrid's desperation like a bloodhound, ratcheting up the drama and forcing the situation to a pretty dark conclusion.
It would be so easy to mock Ingrid. Instead the film aligns us with her, and takes her desires and need for companionship seriously. It's not her fault that she lives in a plastic age, she's just trying to game the system to get what she needs, just like anyone else. Is Taylor's transformation from basic to #blessed any less psychotic? Ingrid's joy is so palpable and fragile that it's hard not to root for her. Her landlord and neighbor Dan (a very charming O'Shea Jackson Jr.), sees through Ingrid's antics with stoned bemusement, but even he falls for her. That their transactional romance grows into something sweet and real is one of the film's surprises. Spicer makes other strong choices, like translating the static nature of Instagram to the screen by having characters narrate their feeds over manic collages of imagery. Speaking the captions out loud reveals how absurd and tacky the whole enterprise can be. Even Taylor admits, "it's fucking exhausting."
All of this made me think of Sarah Miller's recent piece "Instagram Has No Terroir," a piercing takedown of selfie culture that compares Miley Cyrus' 2017 Malibu and Hole's 1998 Malibu.Which probably just means that like me she was a teenager in the '90s, and that the image of Courtney Love in a ragged baby doll dress holding a guitar was burned into her brain, and linked in some primal way to the idea of power, and what our society does to women who admit that they want it. As Miller puts it, "Most people have to resort to things other than complete goodness to survive. This includes women. Love seemed to remind us of this." Maybe that's why I liked these movies so much. After a year of seeing a powerful woman publicly humiliated for her imperfections, what I need are stories about women fucking up.
 – Susanna Locascio