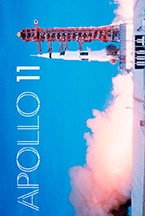 (The 2019 Sundance Film Festival ran January 24-February 3 in Park City Utah. Hammer to Nail guarantees more reviews from the fest than any other website around. That alone is worth $1.00 per month to help keep us going!) 
By now, in the annals of cinema history, we have seen our share of movies about space flight, including narrative films like Philip Kaufman's The Right Stuff and Ron Howard's Apollo 13 and documentaries like Mark Craig's The Last Man on the Moon and Emmanuel Vaughan-Lee's brilliant Earthrise, this last one a thirty-minute short released just last year, telling the story of Apollo 8, the mission that was a dry run for the actual moon landing, its three astronauts merely doing a drive-by of their destination. Also out in 2018 was Damien Chazelle's First Man, a dramatized telling of the life of Neil Armstrong that culminated in his walk on the moon. Now here comes the pure nonfiction version of that story, entitled simply Apollo 11, from Todd Douglas Miller (Dinosaur 13).
And pure it is, masterfully constructed from period archival footage, captured on the ground, here on earth – much of it shot in a high-resolution, wide-format 70mm film gauge –  as well as in space by the astronauts, themselves. With no voiceover commentary other than that offered from newsreels of the time, the movie is as unadulterated an observational procedural of the flight, from start to finish, as one could hope for (barring a 9-day chronicle showing every second of the voyage). Only three men sat in the capsule on takeoff, but now, thanks to Apollo 11, we can all share vicariously in the thrill of their accomplishment.
As Miller makes abundantly clear, however, the success of the Apollo 11 mission – indeed, of the entire Apollo program – was the result of the hard work of many people beyond astronauts Neil Armstrong, Buzz Aldrin and Michael Collins. He constantly plunges us into mission control, with newly synchronized audio delivering dialogue never before seen or heard like this. Sound-restorer Ben Feist, along with archival producer Stephen Slater, composer Matt Morton (whose score is subtle but resonant), and director Miller (who also stitched everything together as the editor), all deserve praise for compressing the pioneering journey into a perfectly pitched and paced 90 minutes, distilling it down to its essential components. Just like the folks at NASA, they work together as a marvelous team, creating an exquisite audio-visual composition that is even more than the sum of its fascinating parts. Trips with human crews beyond earth's orbit may, for now, be a thing of the past, but thanks to this marvelous movie, they live on in our present-day imagination.
– Christopher Llewellyn Reed (@ChrisReedFilm)
Like what you see here on Hammer to Nail? Why not pay just $1.00 per month via Patreon to help keep us going?