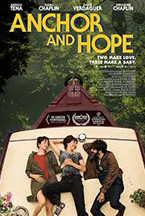 (The 2018 SXSW Film Festival kicked off March 9 and ran all the way through to March 17. Hammer to Nail has a slew of reviews and interviews coming in hot and heavy so keep your dial tuned to HtN!)
In Carlos Marques-Marcet feature-length debut, 10,000 Km (2014) the director contemplated the trials and tribulations of long distance relationships. With his follow-up, Anchor and Hope, Marques-Marcet explores what happens to relationships when squeezed into the close quarters of a houseboat. It's worth noting that while both films share two lead actors – Natalia Tena and David Verdaguer – the characters they portray are quite different.
At the beginning of Anchor and Hope, Eva (Oona Chaplin) and Kat (Natalia Tena) seem quite happily in love. It isn't until Kat's friend from Barcelona, Roger (David Verdaguer), arrives in London that their houseboat first hits the proverbial rocky waters. During a night of heavy drinking, Eva confesses that she wants a baby, but Kat is not too keen on the idea. Before they know it, Roger has volunteered to be the sperm donor.
Marques-Marcet's film examines how the planning for a baby can tear a relationship apart, especially when one partner has not completely bought into the idea. For Eva, the decision seems to be partially driven by her ticking biological clock, but also by the need to settle down and become a grownup. Eva wants a more grounded lifestyle with security and consistency. Sure, a baby is a commitment, but it's also the next logical step of their relationship. Kat, however, enjoys the freedom of their current lifestyle. Nothing has anchored them down to any specific location or careers, and Kat would be content floating aimlessly through life with Eva. Their cost of living is extremely low and they don't seem to have many worries or stresses. Their biggest concern is having to move their boat every so often to avoid punishment by the city. To pour salt into Eva's wounds, Roger – who is essentially the straight-male version of Kat – is perfectly willing to sacrifice his heavy partying, nomadic playboy ways to help out with the baby.
The moral of the story seems to be while opposites may sometimes attract, opposites aren't always well-suited for raising a baby together. From more of a socioeconomic perspective, Anchor and Hope tackles the difficulties of maintaining a stable relationship while living "off the grid." And while Anchor and Hope is a story about two lesbians, the message transcends sexuality and gender.
The uniqueness of the London canals as the primary setting establishes several clever plot devices for Anchor and Hope. The houseboat perfectly visualizes Eva and Kat's nomadic lifestyle, while also forming a pressure cooker to accentuate their romantic tension. The constant moving of the boat to various parts of the canals reflects the changing tones of Eva and Kat's ever-evolving relationship. It also breaks up the narrative into different episodes, with each docking location representing a new scenario.
I'll add that as a lifelong fan of Charlie Chaplin, it is pretty exciting to see his daughter Geraldine Leigh Chaplin and granddaughter Oona Chaplin share scenes as mother and daughter in Anchor and Hope.
– Don Simpson (@thatdonsimpson)