(AFI FEST 2013 runs November 7th-14th in Hollywood. Visit the festival's official website for more information.)
AFI FEST is the place and time in Los Angeles to see an amazing selection of the best and most talked about art-house films from the international festival circuit. Once again this year, tickets are being made available to the public for free on a first-come, first-served basis. There will be new films from big names like the Coen Brothers (Inside Llewyn Davis), Spike Jonze (Her), Alexander Payne (Nebraska), Jafar Panahi (Closed Curtain), and Errol Morris (The Unknown Known: The Life And Times Of Donald Rumsfeld) among many others. A lot of the most buzzed about films weren't screened to the press ahead of time, but here's a small preview of personal favorites.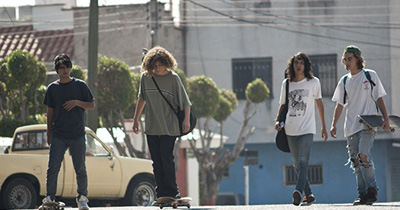 Samuel Kishi's Somos Mari Pepa is centered on 16-year-old Alex, who plays guitar in a Guadalajara punk rock band that only has one song—a pretty good one actually, with a chorus that goes "I wanna cum on your face, Natasha!" Kishi achieves a totally naturalistic tone, never forcing the drama but finding moments of abstract poetry, particularly in how characters connect wordlessly. He also gets in some perfectly dry social satire in a scene where Alex, desperate for a job, goes to a cheerfully soul-crushing recruitment meeting for "Herba-Power."
In a similar vein, Katarzyna Rosłaniec's Baby Blues paints a lurid picture of teen motherhood in today's Warsaw. Natalia is a wildly immature teen with a skateboarder boyfriend who can't help wanting to have a teenage life complete with clubbing, drugs and hot new fashions, although she does her best to take care of her baby. Rosłaniec creates an evocative visual environment for Natalia—a world that looks like a teenager's bedroom exploding outward, full of color and style experiments—that feels totally organic to the character. The performances are uncanny—real and inspired.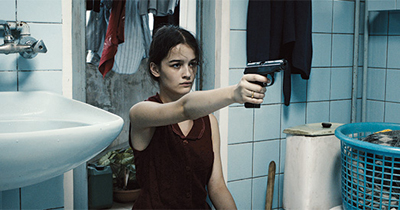 And there's even more teen drama, this time set in Tblissi, Georgia in 1992. In Nana Ekvtimishvili and Simon Gross's In Bloom, best friends Eka and Natia face the everyday reality of being oppressed as women with a growing consciousness of needing to fight back. A shocking turn of events is at first accepted and metabolized, but eventually the behavior of men goes too far. Ekvtimishvili and Gross stage some spectacularly raw and real crowd scenes: an angry queue for rationed bread; a houseful of girls rushing to pack up a party as mom gets home; a boisterous, traditional wedding. Even more impressive are the performances: in particular Lika Babluani as Eka, who obliquely expresses her rage in a show-stopping, defiant folk dance.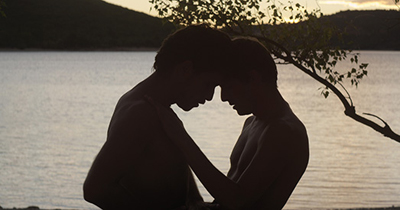 Stranger by the Lake by Alain Guiraudie delves into the world of outdoor gay cruising, and, like in William Friedkin's Cruising, there's a killer on the loose. The choice of milieu itself pushes boundaries, as Guiraudie looks—somewhat clinically—into the psychology and anthropology of men hunting for sex in an animalistic way. The sex is at times extremely graphic, but the film tends to emphasize the reckless lack of caring and self-regard of the characters over the simple hedonism of hooking up with strangers out in nature. A subplot about a straight man developing a platonic crush on a gay character takes the film into even deeper uncharted waters.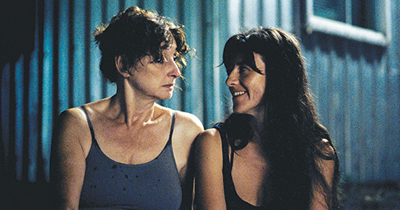 Probably the most intense narrative film in the festival is Denis Coté's Vic + Flo Saw a Bear, winner—appropriately—of this year's Silver Bear in Berlin. Vic, a gruff, middle-aged lesbian, turns up at a remote house where her invalid uncle lives, and shoos off his young caretaker. Soon she's joined by her younger lover Flo. The film is reticent about giving up its secrets: a parole officer shows up with a complex agenda of his own; both women seem to have just been released from prison. Flo pursues her taste for the opposite sex, and another woman, a real wild card, shows up on the property and aggressively befriends Vic. The story fires off in all sorts of shocking directions, with the darkly fated relationship between the two women and the latent violence bundled in their burden of karma at its core.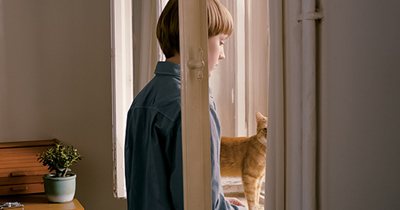 It's a rare and thrilling experience to come across a filmmaker who can create a whole new film language, and Ramon Zürcher has done just that with The Strange Little Cat. It's a simple story, in fact not much of a story at all, of a family reunion in a cramped apartment, but Zürcher structures his film around motifs rather than narrative—kind of like a piece of music. It's a playful film that creates tension through idiosyncratic framing choices, what's shown and not shown, as much as through dialogues that seem relaxed and friendly but on closer inspection amount to people just talking at each other, creating calls and responses and oblique, abstract patterns.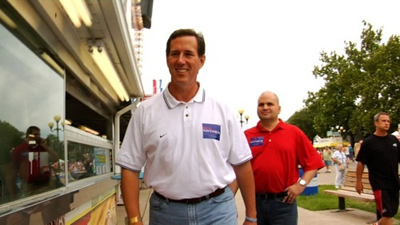 For horror movie fans, there's a film you can peek at through your fingers at while knowing that in the end the monsters will be beaten back into their caves. A.J. Schnack's documentary Caucus has plenty of bone-chilling moments, as the Bible-thumping demagogues of the Republican Party do their best to seduce the good people of Iowa in the lead-up to the 2012 Caucus. See Michelle Bachmann try way too hard to impersonate a human being, only to ditch an autograph seeker with a "sorry, my bus is leaving." See Mitt Romney pledge to protect and then to cut Social Security during the same campaign stop. Then see Romney get sliced open by Newt Gingrich with a line sharp enough for RuPaul's Drag Race. Romney: "I spent my life in the private sector. I know how the economy works." Gingrich: "The only reason you didn't become a career politician is you lost to Teddy Kennedy in 1994."
— Paul Sbrizzi