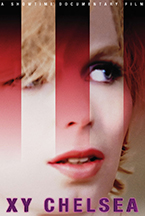 (The 2019 Tribeca Film Festival ran April 24-May 5 in New York City. HtN has writers Matt Delman, Chris Reed and Mike S. Ryan at the fest to get ready for our always deep coverage! Like what you see here on Hammer to Nail? Why not pay just $1.00 per month via Patreon to help keep us going?)
Many documentaries function both as art and whistleblowing apparatus. Few whistleblowers, however, have as high a profile as Chelsea Manning, the former army soldier who funneled classified military documents to Wikileaks, and who happens to be transgender. A new documentary, XY Chelsea (which premieres June 6 on Showtime) outlines her story and her struggle, but more than anything it is a portrait of a brilliantly complex and determined human being. Director Tim Travers Hawkins, working with Laura Poitras' Field Of Vision production team, weaves a twisty story whose central character is arguably more striking and charismatic than Edward Snowden or Julian Assange. The film serves as an unofficial third installment in a trilogy starting with Poitras' own Citizen Four and Risk, and has potential to be a contender in awards season.
The film begins with Manning's release from prison, after President Barack Obama commuted her sentence to 7 years. Her release is met with overwhelming joy, relief and optimism, but also comes with it a lot of concerns. As the film points out, soldiers returning from deployment experience reverse culture shock—but imagine going straight from deployment to prison (including stints in solitary confinement), and then trying to assimilate back into normal everyday life. Manning has no intention of slinking away to live on a farm. In face of everything she decides to run for the US Senate in her home state of Maryland, but a disastrous PR stunt derails her campaign. The doc covers everything from her active Twitter handle to hormone therapy to frighteningly close suicide attempts. We feel for her legal team who fight for her every step of the way, and continue to do so now that she is back behind bars for refusing to testify against Julian Assange.
Now is a good time to take a moment to say 'Hello!' to the government official reading this review. It's made clear in the movie that everyone Manning comes into contact with is being watched. This constant monitoring leads to a sense of paranoia, which Hawkins expertly mirrors in the shooting and editing style. The shallow depth of field and frame rate on what seems to be a DSLR camera makes for (at times) a disorienting, out-of-body experience. There is no editor or cinematographer credited on IMDb, leading one to believe Hawkins shot and edited the film himself, unless those person's identities are being protected.
XY Chelsea is a deeply personal project for everyone involved. Hawkins started communicating with Manning via letters during her first stint in prison, and the film was initially going to have an epistolary format. When Manning got out, Hawkins' documentary morphed into something much more immediate. Manning has such an intense screen presence; it's a wonder to see her modeling for vogue one minute and crumbling under immense guilt the next. This guilt she feels is not from breaking the law, but from her time in the military providing coordinates for the purpose of killing. In fact she is so steadfast in her beliefs that she subjects herself to more prison-time instead of testifying against Assange. Sometimes courage is measured by breaking rank, by going against the tide, against the status quo. History will look back on Chelsea Manning kindly, thanks in part to Hawkins' compelling film.
– Matthew Delman (@ItsTheRealDel)
Like what you see here on Hammer to Nail? Why not pay just $1.00 per month via Patreon to help keep us going?