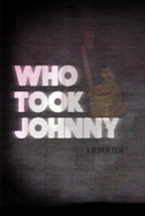 (Who Took Johnny is currently screening at the Revelation Film Festival in Perth, Australia. It world premiered at Slamdance 2014. More information can be found at the film's official website.)
In 1982 Johnny Gosch disappeared from his neighborhood paper route in small town Iowa. But this film isn't really about Johnny. Who Took Johnny is actually a documentary about the absent boy's mother, Noreen Gosch, who tirelessly pursues the case for decades. Noreen's motivations begin out of a love for her son but slowly they extend into a much bigger, darker issue, as she becomes a voice for all of those affected by the disappearance of children. She becomes her own biggest advocate and urges others to do the same, creating resources where there are none. She quietly, unassumingly screams into the deaf ears of officials who are hiding a network of gross child abuse, conspiracy, corruption, and national deceit. Noreen is basically responsible for the faces on the milk cartons. Yet despite all of her vital work, the creation of Gosch's public character is met with a confusing mistrust, a person that feels more like a persona. This confusion between what is fiction and what is real is a tension that easily becomes amplified when the story that unfolds is nearly unfathomable, and it is this tension that is the core conflict of Who Took Johnny.
Like the documentary films of Errol Morris whose subjects' words seem to crack under scrutiny, Who Took Johnny is a character study that steadily builds the narrow worlds of those circling around the lost boy, Gosch often the figure setting into motion the orbits of others. The shaping of the characters is aided by the highly publicized nature of the case as talk show footage and TV appearances act as a disembodied account of how the story played out publicly. The public facts are then contrasted with highly personal interviews with the subjects today, a hindsight explanation of actions that humanizes the media presentation and whose clashing accounts leave the audience with an apprehension that is then exploited in the editing.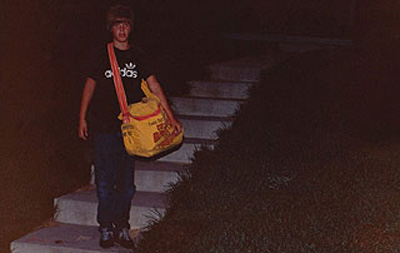 Each small detail of Noreen's character, and of the entire twisting narrative, is slowly, expertly revealed, prodding the audience along like an almost action-less thriller. The suspense of the story is mirrored by incredible filmmaking that makes every moment feel crucial: Noreen is a yoga instructor, trained far before the trend… what does that mean? The countless layers and media infiltration also do something unexpected: they make the real Johnny lost again.
When I was talking to Michael Galinksy, one of the film's co-directors (alongside Suki Hawley and David Beilinson) and a force behind the heated 2011 documentary Battle for Brooklyn, he mentioned how unlikable or unreliable the subjects of his films can be, a fact that he thinks can scare away audiences or programmers. I think he's right. We turn to documentaries for some solid seeming experience of reality, often disregarding the idea that documentaries are inherently subjective and crafted. Even off-screen we take what media says at face value despite the countless angles, known and unknown. Who Took Johnny is the story of a missing boy, his mother, and a silent, grotesque darkness lurking in America that no one is comfortable looking at. Reality is often unreliable and unlikeable.
— Donna K.