(White on Rice is now available on DVD through Indieblitz Releasing. Visit the film's official website for more information.)
What if, by some glorious mistake, Savage Steve Holland (Better Off Dead, One Crazy Summer) had been hired to direct the American remake of Kiyoshi Kurosawa's Tokyo Sonata? The result might be something like Dave Boyle's White on Rice, a genuinely funny fish-out-of-water tale about a hapless Japanese divorcee who has relocated to America in order to try to get back on his feet. The only problem is that Jimmy (Hiroshi Watanabe) seems determined to shoot himself in both feet at every opportunity. With impressive command of his medium, Boyle creates an absurd universe in which the most cartoon-like situations retain a grounded air of sincerity and sweetness.
I noticed a somewhat disconcerting trend at this year's SXSW Film Festival, where many of the lower budget directors seemed to be more inspired by conventional Hollywood than anything even remotely approaching the margins. Perhaps this is a reaction to the slapdash, pick-up-a-video-camera-and-shoot-whatever aesthetic that has recently pervaded the film festival landscape, but the fact remains that a higher production value—from locations to sets to soundtracks to, most importantly, recognizable actors—is inextricably linked to our ability to suspend our disbelief enough to enjoy these trivial and fluffy Hollywood excursions. But when one is working with a small budget, the flaws in this pattern become much more glaring and harder to ignore. The result, often, is a product that lands in that empty, nowhere space in between. Though White on Rice was made for less than one million dollars, Boyle' production feels like it would play comfortably in a multiplex. Of course, a comedy this sharp probably won't ever make it that far.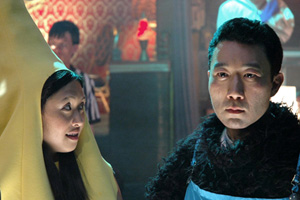 Trying to explain how or why something is funny is as unappetizing as as watching an unfunny sitcom, or, worse, bad improv. But I guess that's my job, so let me try. In this case, it starts with Boyle and Joel Clark's script, which gets funnier the more that it settles in (not to mention the more that one thinks about lines that have just been delivered). It's clever without being obvious. It isn't dry necessarily, yet it is still somehow understated. See? I knew this wasn't going to be easy. Let me try to give an example. Towards the end of the film, Jimmy and his nephew Bob (Justin Kwong) are sitting on a park bench having a hidden exchange, for Jimmy has been kicked out of his sister's house. The adolescent—like, we're talking elementary school age here—Bob concludes by saying, "Well, I have to go to work," to which Jimmy asks in an incredulous panic, "I do?!" Bob replies, "No, me." Or this: when Jimmy shows up at the wedding of his rival, Tim (James Kyson Lee), who is about to marry his dream girl Ramona (Lynn Chen), he walks right up to Tim and says, "I had a dream that I killed you and married Ramona! Don't worry, I'm not being a sore loser. Congratulations!"
As we know all too well, a funny script does not guarantee a funny movie. In the case of White on Rice, however, the combination of all that clever dialogue with actors who really seem to get it—or who are being guided by a director who knows how to set a tone and maintain it—are responsible for the movie's charming, humble success. Watanabe is a particular standout, but Tak (Mio Takada), as well as the most minor of players, prove up to the task.
I was skeptical about writing this review, for I knew it would be difficult to pinpoint exactly why I found White on Rice to be so funny. It's also why I felt like it needed to be written. I worry that this movie is sitting in a very difficult position. As with the case of Onur Tukel's Ding-a-ling-LESS, White on Rice might not be considered "hip" enough for most indie-minded film festivals, and its low budget and lack of big names and faces will keep it from finding more mainstream distribution. I am here to tell you that it deserves both.