WHERE'S MY ROY COHN?
The Bigot Whisperer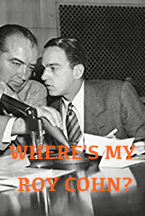 (The 2019 Sundance Film Festival ran January 24-February 3 in Park City Utah. Hammer to Nail guarantees more reviews from the fest than any other website around. That alone is worth $1.00 per month to help keep us going!) 
Where's My Roy Cohn?, a new documentary from Matt Tyrnauer, takes its title from a quote attributed to Donald Trump in a meeting with advisors where he expressed his frustration at the purported lack of loyalty among his staff. "Where's my Roy Cohn?," he yelled, wondering why no one would stand up on his behalf against the injustice of the Russia investigation. It was not a purely theoretical question, either, since Trump had once known the former aide to red-baiting Senator Joseph McCarthy, meeting him when he, Trump, was an up-and-comer in the world of New York real estate and Cohn was a long-established fixture of shady (i.e., mostly mafia) legal defense teams. Unfortunately for our 45th President, Cohn died in 1986 (at 59), so Trump's cry dissipated without reply. After watching this movie, however, one might wonder what kind of a human being would seek out a self-serving narcissistic sociopath like Cohn for a lawyer. Oh, wait …
Trump, however, does not make an appearance in the actual film until late in the game, and even then only peripherally. Instead, Tyrnauer turns his lens squarely on the life and mean-spirited good times of his primary subject, following Cohn from his birth in 1927 through his career-making prosecution of Ethel and Julius Rosenberg (it was Cohn who colluded with the judge to push for the death penalty) to his association with McCarthy and beyond. The man was nothing if not a master manipulator of media, understanding that one should never apologize for anything, any time. Never give up, never surrender; to show weakness allows the hyenas – journalists, enemies, one and the same – to pounce. Indicted numerous times for professional misconduct, Cohn was finally disbarred in 1986, mere months before his death from AIDS. Deeply closeted and responsible, during his time with McCarthy, for homophobic attacks on government workers, he was clearly a very conflicted man, yet his essential loathsomeness precludes at least some of the empathy we might accord to a gay man of his generation. Cohn mainly cared for Cohn, the rest be damned.
If not the most exciting of nonfiction biopics (try Tyrnauer's Scotty and the Secret History of Hollywood or Studio 54 for more razzle-dazzle pizzazz), it feels comprehensive enough, walking us through the main details of Cohn's career all the way to his lonely end. Perhaps the greatest stroke of (inadvertent?) wit is Tyrnauer's choice of Cohn protégé Roger Stone as one of his interview subjects. When I saw the movie at Sundance, it was on the same day that special counsel Robert Mueller announced his indictment of Stone: the audience laughter at the first appearance of him on screen shook the house. The rest of the film holds our interest, but without any great cinematic innovation. Perhaps it's the movie Cohn deserves, however, rather than a flashy paean to his miserable glory. Slow and steady wins the biographical race, then, delivering the facts and not much more. That's all we need.
– Christopher Llewellyn Reed (@ChrisReedFilm)
Like what you see here on Hammer to Nail? Why not pay just $1.00 per month via Patreon to help keep us going?
Leave a Reply